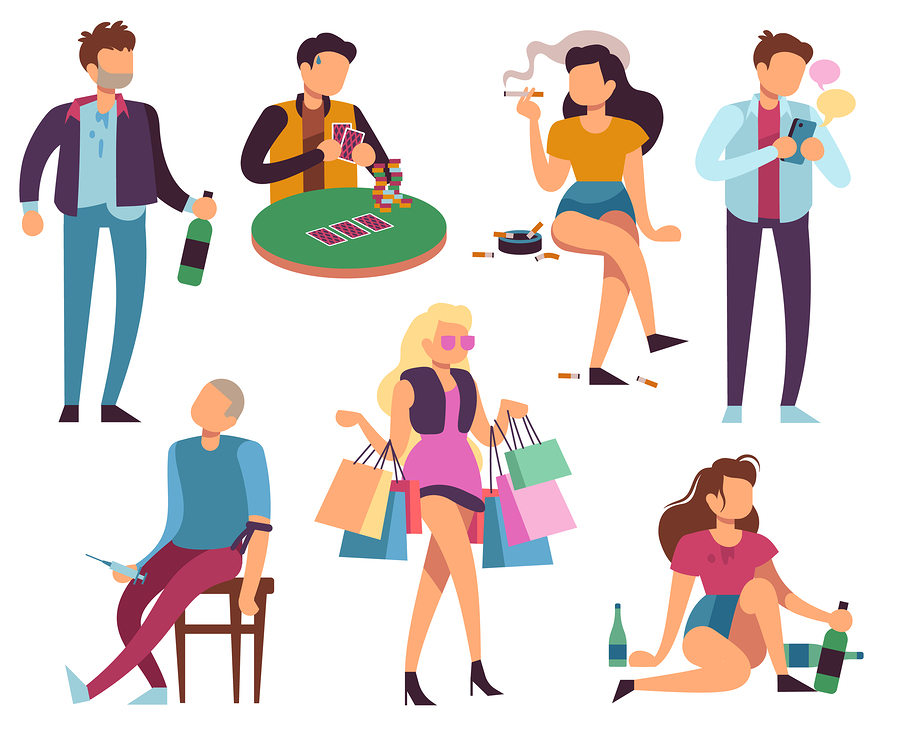 Addiction is a serious problem in the UK, with 268,251 adults listed as in contact with alcohol or drug services between April 2018 and March 2019. As the festive season approaches, these addictions are felt more keenly by addicts for a number of reasons.
Both Christmas and New Year can be a struggle for those suffering from an active addiction or recovery as at this time of year many events involve alcohol such as work Christmas parties or seeing in the New Year. Staying on track can be particularly difficult for those in recovery with the festivities and excitement surrounding the holiday adding further temptations. That being said this time of year has a greater chance of an addiction coming to light as more time is spent with close friends and family.
The four most common addictions suffered by people in the UK are also the ones which are the most difficult to deal with during the festive period. These are:
•Alcohol
•Drugs
•Food
•Shopping
Studies have shown that alcohol consumption across the UK rises considerably over Christmas, with the British public expected to consume as much as 5.7bn units of alcohol during the festive period. When quizzed on their reasons for the excessive drinking during this time, responses ranged from "It's Christmas" to "Everyone else was drinking", underlining the intense social pressure related to drinking during this time.
Christmas is also a time when there is more pressure to feel at ease socially and be present for social situations that you otherwise may not take part in, such as an office party or large family gatherings. Many people use alcohol as a way to manage anxiety and stress in these situations. Recreational drugs are also used to the same effect, particularly in younger age groups.
Whilst addiction can be harder to handle over the holiday period, it is quite a good time to approach a loved one if you are worried that they are struggling with an addiction. During this time the whole family is together, and everyone has more time off from work and other commitments to focus on each other. People tend to feel more emotionally connected during this time and, with the new year approaching, people are more open to big life changes.
Before you approach a loved one about their addiction, it is best to plan your intervention carefully.
What Services To Consider
There are a huge range of addiction and recovery services available in the UK, and different options are more suitable for different types of people. A residential rehabilitation centre may be the best option for those suffering from a serious addiction that they have lost all control over, whilst day centres and drop-in clinics are better for those already in recovery or who require a little support with problem drinking. Ask yourself, about your loved one:
•What addictions are they struggling with?
•Do they have any mental health problems which also need to be treated?
•Does detox pose a physical risk? (If they are a long-term alcoholic or drug user they may require round the clock medical care to ensure safe detoxification)
•Do they suffer from chronic pain?
•Have they attempted rehab before and failed?
The type of treatment you look into for your loved one will impact your answers to these questions, ensuring that you have chosen the right option for their specific addiction and personality.
Think About The Practicalities
It is all well and good getting your loved one into rehab so that their addiction can be dealt with, but chances are that they have a number of life responsibilities that they can't just walk away from.
Treatment over the festive period is a good idea because they will usually have some time off from work anyway, and the family is together to handle things like looking after children and pets. However, you need to think about how this is going to be dealt with if their rehab goes on for longer than the holiday.
Work together with other family members, your loved one's employer and so on to ensure that all of these issues are ironed out before you move onto the next step.
Get Others Involved
You can't and shouldn't have to deal with an intervention on your own. In fact, it is far more effective to have a number of friends and family who agree with you and want to help your loved one. These people can also help to fund rehabilitation and offer practical help as listed above.
Contact A Rehab Centre
There is no point approaching your loved one about their addiction if you have nowhere for them to go. The intervention process can be fraught and emotional and, if you convince your loved one to go into rehab, you have to act quickly so that they don't change their mind.
Speak with Cassiobury Court first. We will be happy to work with you to secure a place in our rehabilitation centre, and then give you any advice and support you need to proceed with the next step.
Prepare For Their Stay
This may feel uncomfortable, preparing your loved one for rehab without telling them that this is happening, but it is best to have thought of everything so that you can all move quickly after an intervention.
Pack a bag, book transport, or decide who is going to take them to the centre. Cassiobury Court can help you to get everything ready, as we offer round the clock support for addicts and their families. Anything you can do to make the transition as smooth as possible will help, particularly over the Christmas period.
Stage Your Intervention
Try to do this when everyone is together but avoid days like Christmas Day or New Years Day as these may become uncomfortable triggers for the addict in the future thanks to the emotion tied to them. Once you are all together make sure that everyone has their opportunity to say what they want to to the addict, but keep it loving and compassionate.
Cassiobury Court can be reached on 01923 369161 or you can text HELP to 83222 to get your loved one started on their rehab journey.