Drug and Alcohol Rehab Edgbaston
Some common signs and symptoms, indicating an addiction include strong cravings, difficulties whilst withdrawing, social isolation, a change in behaviour, and new priorities around alcohol or drugs.
Whether you're personally noticing the signs or believe that a loved one is struggling through the symptoms, you can take action. Through either a self-referral or a family and friend referral, the addiction recovery process can begin.
Reach out here at Cassiobury Court if you are noticing any degree of change through substance abuse. We're here to support you and your loved ones through addiction recovery, possible by visiting a drug and alcohol rehab in Edgbaston.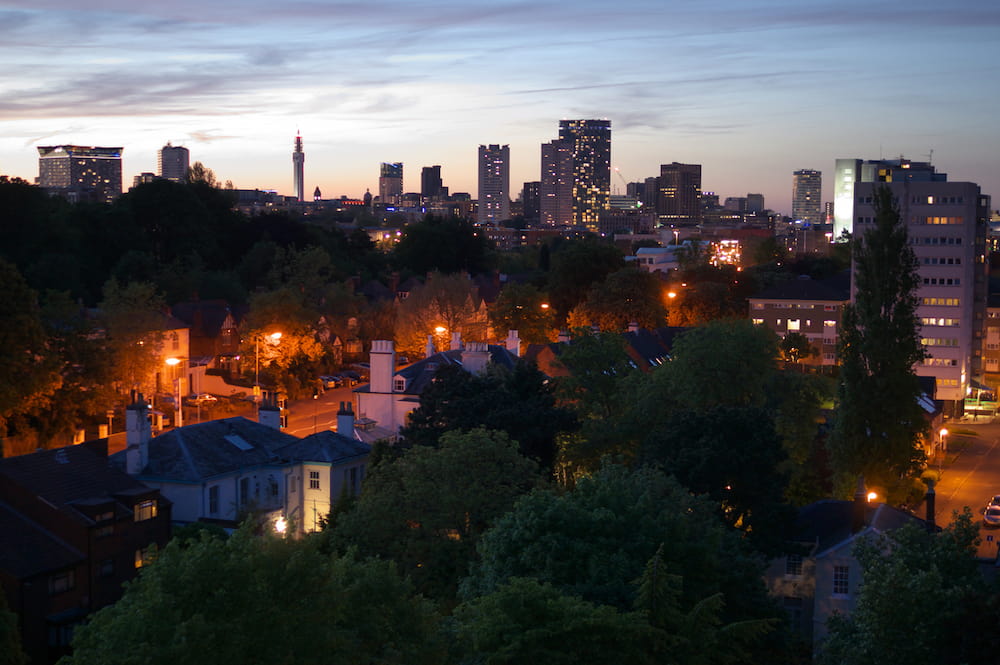 Alcohol Rehab in Edgbaston
The journey to sobriety can be challenging, but we at Cassiobury Court believe that anyone with willpower can succeed, especially with the right help.
In our Edgbaston facility, we offer an intensive and well-structured alcohol rehab programme.
Our team of dedicated professionals focuses on both the physical and mental aspects of recovery, using treatments like detoxification and cognitive behavioural therapy.
We also provide relapse prevention planning and support groups to build a robust community that shares the common goal of recovery.
Our approach is personalised, compassionate, and aimed at addressing the root causes of alcohol addiction.
Cocaine Rehab in Edgbaston
Cocaine is a powerful stimulant that can quickly lead to addiction. Our Edgbaston facility is well-equipped to handle such cases, providing an intensive rehab programme tailored to the needs of cocaine sufferers.
We offer medical detox to manage withdrawal symptoms and a variety of therapies to address the psychological aspect of addiction.
Our cognitive behavioural therapy aims to change harmful patterns of thought that lead to cocaine use.
In our support groups, individuals can share experiences and learn from each other, creating an environment of mutual understanding and encouragement.
Cannabis Rehab in Edgbaston
While cannabis is often considered less harmful than other drugs, its regular use can still lead to dependency.
If you or your loved one is struggling with cannabis addiction, our Edgbaston facility can provide the help you need.
We provide a comprehensive cocaine rehab programme that includes detoxification, cognitive behavioural therapy, support groups, and holistic therapies.
These treatment modalities aim to address both the physical and mental aspects of addiction, helping individuals develop healthier coping mechanisms and, ultimately, a drug-free lifestyle.
Prescription Drug Rehab in Edgbaston
Addiction to prescription medicine can be especially hard to beat because the drug being misused is often a real medicine treating a medical condition.
At our Edgbaston facility, we understand the unique nature of this problem and offer a specific rehab programme for those struggling with prescription drug addiction.
This includes medically supervised detoxification to manage withdrawal symptoms safely and effectively.
We also provide cognitive behavioural therapy and other forms of psychotherapy to help individuals understand and alter the behaviours and thought patterns that contribute to addiction.
Through a combination of these treatments, our aim is to provide a path towards sustainable recovery.
Pros and Cons of Private Rehab
Intensive form of addiction treatment
High recovery rates
Aftercare support in Edgbaston
24/7 support in luxury facilities
May need to take time off work
Time away from family and friends
Want to get in touch?
Fill in your phone number and we'll get back to you as soon as possible
Free Drug & Alcohol Support in Edgbaston
There are many free support options for drug and alcohol addiction. Here are some local options:
Alcoholics Anonymous Meetings in Edgbaston
Edgbaston Walker Hall
Saturday
Walker Memorial Hall, Ampton Road, Edgbaston
Time: 11.00 – duration 1hr 30mins
Distance: 0 miles
Postcode: B15 2UJ
Big Book Study
Friday
SIFA, 48-52 Allcock St
Time: 13.00
Distance: 1 mile
Postcode: B9 4DY
Kings Heath/Moseley
Monday
St Columbas UR Church, Chantry Rd, Moseley
Time: 19.30 – duration 1hr 30mins
Distance: 1 mile
Postcode: B13 8DL
See more AA Meetings in Edgbaston over on the AA website.
Narcotics Anonymous Meetings in and near Edgbaston
Serenity on a Sunday Morning
Sunday
Main Hall, St Columba URC Church Moseley, Chantry Road, Moseley, Birmingham, West Midlands, B13 8DD
Time: 11:10 – 12:30
Step in the Right Direction
Sunday
South Yardley Methodist Church, Broadyates Road, Birmingham, West Midlands, B25 8JF
Time: 19:00 – 20:015
Manic Mondays
Monday
Main Room, Lodge Road Church Centre, 143 Lodge Road, Winson Green, Birmingham, West Midlands, 1B18 5BU
Time: 12:00 – 13:30
See more NA Meetings in and near Edgbaston over on the Narcotics Anonymous website.
Noticing the signs and symptoms of addiction
It can be daunting to notice the signs and symptoms of addiction. Witnessing changes to physical and psychological health, consumption rates, and commitments can be difficult. Whether you're noticing them about yourself or a loved one, it's important to take action, to reduce the long-term impacts of drugs and alcohol.
Common signs and symptoms of substance abuse include:
Physical symptoms, such as ill-health, hangover-like symptoms, and a loss of control
Psychological symptoms, such as poor mental health, irritability, and mood swings
Social symptoms, such as changes to social circles, signs of isolation and new commitments
Behavioural symptoms, such as a change in personality, unhealthy priorities, and compulsive behaviours
Any degree of drug and/or alcohol problems can be treated through rehab. Support will be beneficial across the board, no matter how new, mild, chronic, or long-lasting symptoms may be.
You can take action by referring yourself or a loved one to a drug and alcohol rehab in Edgbaston. With a quick admissions process, withdrawal, treatment, and recovery can be aimed for here at Cassiobury Court.
What's expected of residential addiction treatment?
Residential rehab is the most recommended and beneficial route to take through addiction recovery. It provides clients with the opportunity to wholeheartedly focus on recovering. Removing drug and alcohol influences and exposure, energy and effort can be instilled into rehab.
There are many benefits linked to residential addiction treatment. Checking into a drug and alcohol rehab in Edgbaston will provide around the clock access to a team of addiction specialists. Balanced, clean, and private environments are also expected, providing a personal space to reside in.
Treatment plans are personalised, and extensive, high-quality support is offered, and a step-by-step programme is in place to work through. The entire process can be completed in 28 days, also standing as a proactive way to recover.
By checking into private rehab, greater success rates are expected due to the level of control that you'll have. Holistic, medical, psychological, and mental health therapies will also help you heal from a multitude of angles, also found to strengthen recovery.
Range of therapies offered at Cassiobury Court
Our therapies are evidence-based here at Cassiobury Court. Our rehab facility operates by making use of conventional and additional services, to treat individual causes and symptoms.
Treatments and therapies which we use include:
Drug and alcohol detoxification
Cognitive behavioural therapy
Support groups and group therapy
One-to-one therapy
Family therapy
Mental health treatments
Relapse prevention planning
Wellbeing services
Lifestyle management
Holistic therapies
Treatment plans are assisted by a dedicated team of specialists, offering direction through withdrawal symptoms, mental health conditions and any challenges. Safety and progress are paramount through private rehab, aimed for through personalised treatment plans.
Local areas we cover
We help people in the Birmingham area get the support they need with alcohol and drug addictions. Birmingham has a higher than average death rate compared to the rest of the UK and you can also access our help if you live in other local areas such as:
West Brom
Dudley
Stourbridge
Free aftercare in Edgbaston
Treatments and therapies can help to recover the body and mind post-addiction. Services also focus on motivating long-term recovery by providing the tools to remain sober.
Yet the transition period, post-rehab, can be difficult to face up to, resulting in vulnerabilities for many clients. Free aftercare services are offered to reduce such feelings, helping to ease the transition.
Known to reduce relapse risks and high-risk situations, known to offer peer support, known to provide structure and routine, and known to improve mental health, aftercare is a useful service.
Free for 12 months, we can help you experience aftercare via a drug and alcohol rehab in Edgbaston.
If you are worried about your habits and can see some warning signs, we're here to offer free and confidential advice. In the event of a referral, we can also help you through the admissions process, to access our rehab clinic here at Cassiobury Court. Reach out for our professional advice today.
Rehab experiences will be different for every client, meaning that each day will differ depending on personal needs and responses. Yet the average day starts with healthy intentions of good nutrition, mindfulness, and movement, followed by a range of treatment sessions. Anything from cognitive behavioural therapy to family therapy can take place, to promote progress. The afternoons are usually filled with group activities, exercise, self-development sessions, and some downtime, to secure a balance. A day in rehab will finish with healthy habits, focusing on rest, further goal setting and reflective work.
A family intervention is a safe place for loved ones to share their concerns and worries. Bringing together a small group, worries are communicated to motivate the option of rehab. Many addicts can struggle to see beyond the positive effects of drugs and alcohol. Others live in denial. Whilst others feel alone and incapable of completing the process. An intervention offers support, helps to display the realism of addiction, and can advance the acceptance of rehab. It also offers education and support for family members through this time.
Signs and symptoms vary depending on the drug of choice, the method of consumption, personal tolerances, and wellbeing. The most common signs are displayed through changes, to wellbeing, mental health, commitments, and behaviours. If drugs and alcohol take priority, deteriorate health, induce the likes of depression, cause money or social problems, and withdraw users from reality, these are some common signs of addiction. Any form of habit will benefit from support. If you're spotting the signs and symptoms, reach out at Cassiobury Court.