The heroin rehab treatment programme at Cassiobury Court helps people with a Heroin addiction to recover.
Dealing with an addiction can be incredibly tough both physically and mentally, especially with a drug that is as highly addictive as Heroin – but our team of medical professionals can provide you with the help and support you need through the use of specialised treatment programmes that are designed to give you the best chance of a life without addiction.
Are you or a loved one suffering from Heroin Addiction? The Heroin Rehab treatment programme at Cassiobury Court helps people with Heroin Addiction to recover. You're not alone.
How Heroin Rehab Works At A Residential Treatment Centre
Heroin Rehab – What does Heroin Actually Do?
Heroin is a well-known substance throughout the world. Heroin is from the opiate drug family and derived from the opium poppy which primarily grows in southern and central Asia. Users can inject, smoke or snort heroin.
It is an illicit and controlled substance in most countries in the world, and also has the status as one of the most dangerous drugs in the world – and for a good reason.
Originally, Heroin in its current form was developed as medication, but it did not take long before many people found out about the side-effects of heroin use, for recreational purposes.
If you are a long term user yourself, you probably already know the effects of the drug very well. For those who read this due to concerns about a loved one, and do not know much about the drug and its appeal; what pulls people to the drug is the so-called "rush". After injecting heroin, you feel euphoric, and a sensation of peace.
Heroin is extremely dangerous on the other hand. Overdosing on the drug could lead to death, and consistent use can lead to rapidly deteriorating overall health.
From serious skin and dental conditions to a heightened risk of HIV through sharing needles. It is important that you or your loved one quits as soon as possible – heroin does kill.
Heroin Rehab Treatment
Cassiobury Court has developed a unique heroin rehabilitation programme. The heroin detox and rehab programmes tackle both psychological and physiological aspects of heroin addiction.
Our Heroin detox programme will have severe withdrawal symptoms. The symptoms can last for around 2 weeks after any heroin was last taken. Cassiobury Court is a residential rehab clinic, so clients are monitored 24-hours a day by medical staff.
During the detox from heroin, you could be offered prescribed drugs that will help with the pain of the heroin withdrawal symptoms.
When your withdrawal symptoms start to decline, counselling and therapy sessions will begin. These sessions will explore the reasoning behind the addictive behaviour and help identify the triggers that cause or set off the addiction.
We can also offer family-based therapy sessions where friends and family can attend the clinic to help with your recovery.
Therapy sessions are conducted by qualified team members such as psychotherapists and psychologists. Therapy can be one on one with our resident therapist or alternatively within groups of other clients.
Once therapy sessions are completed a bespoke relapse prevention plan is devised before you return home. Our clients are encouraged to contact Narcotics Anonymous once the detox and heroin rehab has finished.
Cassiobury Court offers a FREE 12-month aftercare package following completion of the heroin rehab programme.
Private Heroin Rehab Clinic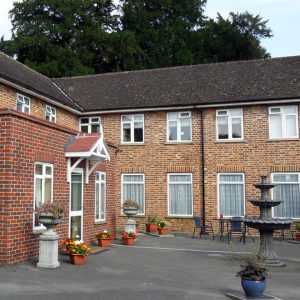 Cassiobury Court is a residential drug and alcohol treatment clinic offering private heroin rehabilitation programmes with 24/7 medical support, we are regulated by the Care Quality Commission (CQC).
Our treatment facility offers a home type feel with comfortable accommodation across two floors and private gardens for you to get some much-needed peace.
Over the years Cassiobury Court has treated in excess of 3000 clients which includes people suffering from heroin addiction, we take huge pride in delivering the best alcohol and drug treatment services.
The processes we have put in please ensure that our clients feel as comfortable as possible, the heroin treatment programme we offer has been designed through years of experience and in-depth research which identifies the problems and triggers of the addiction in order to achieve the very best recovery.
The most appealing aspect of choosing a private heroin rehab clinic is that there are no waiting times as opposed to public healthcare.
Our services can be accessed immediately without a prolonged wait which can be seriously damaging to your health if you are suffering from an addiction.
Also, private rehab clinics such as ourselves offer tailored rehab programmes that suit different individual needs whereas public healthcare options are often nationwide programmes that have designed for everyone rather than catering for the individual.
We believe this is why our heroin treatment options are so successful compared to other rehab centres.
Contact Cassiobury Court
Are you a family member of a heroin addict? Helping someone receive treatment for heroin addiction doesn't have to be as difficult as you think.
If you have a family member that is addicted to heroin we offer an intervention service.
Get in contact with our team today to find out further information about the heroin addiction treatment we offer.
Alternatively please complete the enquiry form and a member of the admissions team will be in contact.
Frequently Asked Questions About Heroin Rehab
We know that substance abuse is a hard subject to talk about.
If you are concerned that you, a friend or a family member may have a heroin dependency then we believe that these questions will be extremely useful for you.
Sources
https://www.talktofrank.com/drug/opiateopioid-painkillers
https://ukna.org/contact
https://www.cqc.org.uk/