Drug and Alcohol Rehab Aberdeenshire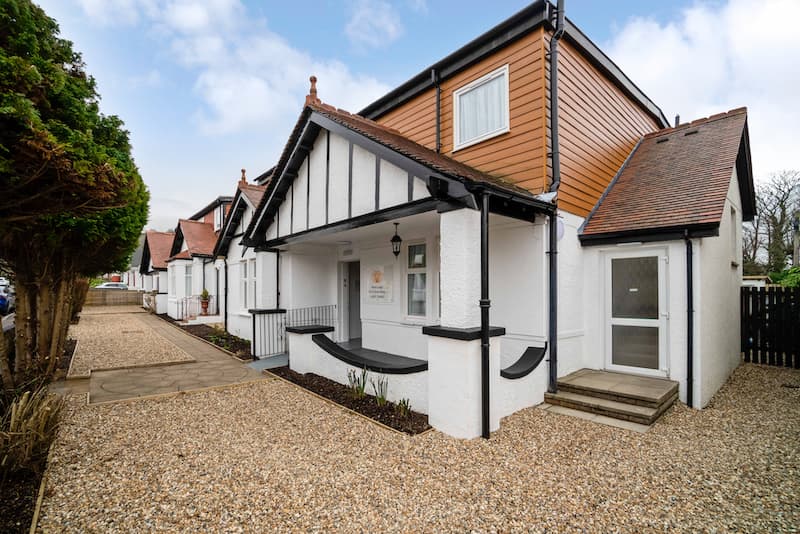 Key offerings available include:
1:1 Support from Clinical Nurse Practitioners, Registered Mental Health Nurses and Therapists
Access to Trained Psychiatrists
24 Hour Nursing Care
Comfortable & Quality Accommodation
Clinically Led Recovery Model Underpinned by Dialectical Behavioural Therapy (DBT)
1 Year Aftercare
At Cassiobury Court, we understand exactly why localised recovery is favoured as a first port of call of drug and
alcohol rehab
. We appreciate the desire for convenience and comfort when completing a new, daunting process, ultimately changing the priority of drug and alcohol abuse.
However, through vast experience, we advocate the need to overlook localised recovery, especially if you are struggling through the signs and symptoms of addiction, including physical and psychological side effects.
This is down to the fact that, although residential drug rehab may motivate initial challenges of acceptance, in the long-term, remaining in Aberdeenshire will influence greater long-lasting challenges.
With this in mind, if you are considering addiction recovery, we recommend that you complete your research on the reality of localised recovery. For some, it can be the best possible option, providing exposure to the norm back in Aberdeenshire.
Yet, for those who are struggling in their surroundings, the reality of residential rehab will rank as easier and a rehab option boasting comfort; offering you what an Aberdeenshire based rehab clinic can, and more.
The challenges of selecting a drug and alcohol rehab in Aberdeenshire
Consider your current exposure to drug and alcohol triggers. It's likely that a singular exposure will influence ongoing drug and alcohol consumption. If this is the case, to any extent for you, this is exactly why selecting a drug and alcohol rehab in Aberdeenshire can carry many challenges.
While residential rehab can be selected in Aberdeenshire, you will however remain within familiar areas. Your associations to drugs and alcohol will be present, commonly through psychological manifestations.
This can be anything from a feeling which motivates substance abuse, to people or places to represent the need to consume drugs and alcohol.
Understandably, you may believe that those associations will disappear as soon as you enter rehab. However, the complexity of addiction as a brain illness will show itself, making it very hard to overcome withdrawal symptoms and the testing yet necessary stages of rehab.
With this in mind, we urge you to combat the challenges associated with drug and alcohol rehabilitation by looking further afield. Rehab itself, no matter its location will carry challenges. Yet, by selecting a drug and alcohol rehab in Aberdeenshire, you'll strengthen those challenges yourself.
Combat those challenges through residential rehab
At Cassiobury Court, we appreciate how our clients may feel scared or worried about initial exposure to residential rehab. As a leading drug and alcohol rehab clinic, we understand the value of comfort and familiarity. However, we also acknowledge the extra level of challenge linked to remaining close to home.
Honestly, some individuals will benefit from familiarity. Contacting their loved ones and accessing psychological memories of happy times will motivate their recovery efforts.
However, in the majority of cases, when dealing with a drug and alcohol addiction, it can be very difficult to reach this happy place when faced with drug and alcohol triggers. Cravings followed by consumption are the common result of localised recovery.
With this in mind, you can combat the challenge of drug and alcohol rehab as a service. Yet, fully doable and intended upon through the structure of rehab. Here at Cassiobury Court, we'll ensure that you are benefiting from the challenging of residential rehab by truly working towards long-term recovery, likely impossible by remaining in Aberdeenshire.
Experience neutral environments
A key benefit of residential rehab is that you can experience neutral environments, set away from pressures and influences back in Aberdeenshire. It can be difficult to break a routine and habit, all associated with drug and alcohol abuse.
However, through the large step of residential rehab, and the environments that it offers, this is doable, safely and effectively.
You can expect a relaxing, luxurious yet professional setting here at Cassiobury Court, helping you feel at home while you rehabilitate. This is very important to us, as we want you to feel comfortable while investing in yourself through drug and alcohol rehabilitation.
Distance will provide significant distance, which will only need to be experienced for the short-term, helping you return back home with greater probabilities of maintaining long-term recovery.
Encounter personal addiction treatment recommendations
A further benefit if that you will have your own rehab programme, which works around your personal needs and experience with drugs and alcohol. Personal recommendations will be made to ensure that you are safe, on physical and psychological levels, that you have the support you require to recover, and that withdrawal and repair can be achieved through a 28-day period.
Addiction treatment recommendations will be personal. However, drug and alcohol detoxification, talking therapies, CBT, stress management and support groups are commonly advised, all down to their positive impacts on the body and mind.
Plan with relapse prevention
By selecting residential rehab, planning for the future is very important. After all, you'll return to Aberdeenshire with new priorities and outlooks on drug and alcohol abuse.
The best way to secure those changes is to plan through relapse prevention. You'll have already disconnected from drugs and alcohol. You'll also have life-changing skills to hand. Now it's time to pave the way for sober living, back in Aberdeenshire, by being prepared for any eventuality.
Combine this with aftercare services, and you can return home, feeling reassured that your short-term sacrifice has paid off.
Through the above assets, you'll be in a position to return home, ready to control your life without the influence of drugs and alcohol. This level of transformation will however only be likely through residential rehab.
Selecting a drug and alcohol rehab in Aberdeenshire will likely produce underwhelming results in comparison to this.
With this in mind, we urge you to take the recommendation of residential rehab, seriously. By doing so, you can access our care, our addiction treatments and our environments, all here to support your drug and alcohol rehabilitation journey.