Drug and Alcohol Rehab Dunfermline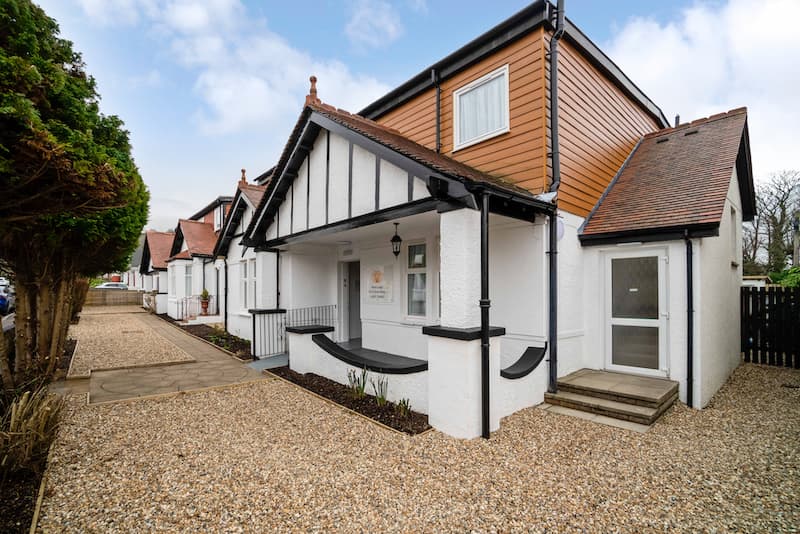 Key offerings available include:
1:1 Support from Clinical Nurse Practitioners, Registered Mental Health Nurses and Therapists
Access to Trained Psychiatrists
24 Hour Nursing Care
Comfortable & Quality Accommodation
Clinically Led Recovery Model Underpinned by Dialectical Behavioural Therapy (DBT)
1 Year Aftercare
If you would prefer to attend a drug and alcohol rehab away from Dunfermline, we can provide you with residential rehabilitation treatment here at Cassiobury Court.
The Importance of Seeking Treatment in Dunfermline
With a rise in the number of people struggling with drug addictions, it could be assumed that a more significant number of people seek support from alcohol and drug rehab in Dunfermline.
However, this is sadly not the case. Many individuals battling drug addictions are hesitant to ask for help.
The stigmas surrounding drug addictions, lack of knowledge regarding the support available and lengthy NHS waiting times prevent many from reaching out for help for their addictions.
Regrettably, delaying treatment causes addictions to spiral beyond control. As drug addictions continue to rise across Scotland, the number of individuals, unfortunately, losing their lives to substances such as heroin and benzodiazepines has surged.
Although you may not believe that your addiction is severe if you have come to realise that you are addicted to drugs, seeking treatment from a drug and alcohol rehab in Dunfermline could essentially save your life.
Our Treatment Programmes Are Bespoke to Your Personal Recovery Needs
If you have come to realise that you are battling drug addiction, attending a drug and alcohol rehab in Dunfermline may not be ideal for various reasons.
If this resonates with you, attending our residential drug and alcohol rehab for treatment can support you in your journey to a substance-free and sober life.
As and when the time is right for you to refer yourself to our treatment centre, our admissions team will conduct a pre-admissions assessment over the telephone to gain an understanding of how your addiction has impaired your life and the side effects and symptoms that you experience.
In doing so, they will be able to outline the treatment that may be best for you and arrange a suitable admissions date. Although discussing your addiction may cause you to experience a range of emotions, please be assured that our team knows precisely what you are going through.
Many have undergone treatment for their own personal struggles with drug and alcohol addictions.
As you enter our rehabilitation centre, you will find that a bespoke treatment programme has been created and tailored to your personal recovery needs.
Each stage of your treatment programme will have been designed with great care and consideration and will guarantee that you have the opportunity to turn your life around and free yourself from the burden of your drug addiction.
As you enter our rehab, our recovery staff will discuss your treatment programme with you to ensure that you understand the treatment you will be presented with and ensure that you are happy with this.
In addition to offering you the tools needed to overcome your addiction, at Cassiobury Court, our drug and alcohol rehabilitation programmes can assist individuals dealing with both addictions and mental health problems.
If you are simultaneously battling drug addiction and mental health disorders such as anxiety or depression, we can provide you with dual diagnosis treatment.
The Benefits of Attending Our Residential Rehab in Watford
Although attending residential rehab means leaving your hometown, loved ones, friends and work responsibilities behind for a short period, residential rehab is becoming highly favoured due to the various benefits it affords.
First and foremost, one of the most tremendous benefits that attending our residential rehab in Watford provides is the space you need to truly recover from your addiction.
Many individuals are under the impression that regardless of whether they attend an in-patient or outpatient facility, they will have the same chance of overcoming their addiction.
Unfortunately, this is not entirely true. As an in-patient, you will not be able to return home after a day of treatment. This will ultimately prevent you from relapsing.
Unlike in-patient treatment, those that obtain outpatient treatment will be allowed to return home after a day of treatment. This could sadly see them surrounded by temptation and more likely to relapse.
In addition, attending our residential rehab will give you the space you need to reflect on your addiction and the way it has impaired your life as you leave your everyday life behind for a short period.
Unfortunately, individuals that seek outpatient support will not have the ability to relieve themselves of the stress and pressures they face at home. This could hinder their progress, and as touched on above, see them more prone to relapsing.
Pros and Cons of Private Rehab
Intensive form of addiction treatment
High recovery rates
Aftercare support
24/7 support in luxury facilities
Treatment programmes can be expensive
Rehab may not be in local area
May need to take time off work
Time away from family and friends
Want to get in touch?
Fill in your phone number and we'll get back to you as soon as possible
The Facilities Available at Our Residential Rehab
While the treatment programmes provided at our drug and alcohol rehab will be at the forefront of your mind, the facilities that we offer ensure that you have a space to relax, reflect and breathe after a long day of treatments and therapies. Below, we have listed the various facilities that you will come across should you decide to attend our residential rehab;
Mix of shared bathrooms and individual ensuite rooms
Private individual therapy rooms
Comfortable and spacious communal lounge areas
Bright and airy dining areas
Multi-purpose group therapy and activity room
TV lounge
Beautiful external courtyard and seating areas
Nutritional food
We have also ensured that our rehabilitation centre is a safe and confidential environment for clients spanning many diverse backgrounds. If you have specific religious and cultural needs, we can cater to those.
Reach Out for Support Today
Although attending a drug and alcohol rehab in Dunfermline may not be for you, if you are ready to face your drug addiction head-on and overcome your struggles once and for all, we are here to support you.
Simply give us a call today to kickstart your journey to a substance-free life.