Drug and Alcohol Rehab Manchester
While there are lots of things to love about Manchester, the area, unfortunately, has an association with drug and alcohol abuse, not just in the city itself but also around Greater Manchester. The area has one of the highest rates of alcoholism in the North West, and a high rate of drug abuse, which is why it can be difficult to get addiction treatment when you need it most. That's why Cassiobury Court often deals with a large number of admissions from the Manchester area.
Quick Access
Skip to resources we detail on this page in relation to our offering of drug and alcohol rehab in Manchester.
Why choose residential rehab in Manchester?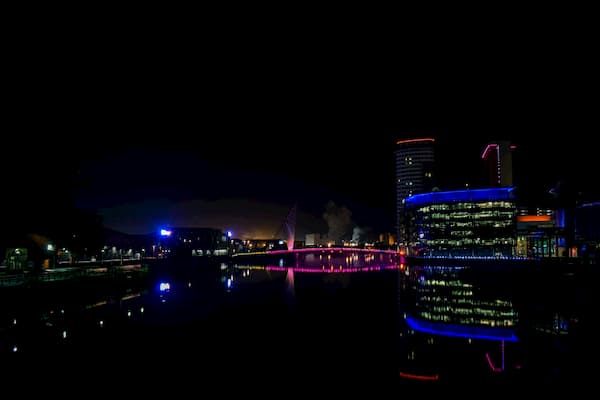 If you're searching for drug and alcohol rehab in Manchester, the odds are you are worried about your addiction or that of a loved one, and while you may not have considered a rehab centre before, it really is one of the best places to receive addiction treatment in Manchester.
You may specifically be looking for rehab in Manchester, but in our experience, it's often better to spend time away from home to go through the rehab process. Not only do you have a clearer thought pattern when you're away from home, but you're also away from bad influences, peer pressure and even drug dealers, so it's much harder to relapse.
Residential rehab offered in Manchester is typically 28 days long, and during this time we offer an intensive programme of therapy, which you'll go through both one-to-one and in a group. Staying with us also means you enjoy a wider range of therapies that can be delivered which includes holistic treatments to alternative therapies.
When you stay at Cassiobury Court for alcohol or drug rehab in Manchester, we take care of you and help you improve your health. From nutritious meals to exercise sessions, we help you start to reverse the damage caused by your addiction, so you can return home feeling better than before.
The effects of an addiction
Whether someone is addicted to alcohol, or a more hazardous substance, living with a dependency can be very difficult. The negative side-effects on physical and mental health, the financial costs, the inability to form and maintain relationships and the incapacity to lead a normal quality life. Not to mention the effect it has on their loved ones.
Although the potential of experiencing long-term health implications, homelessness, criminal incidents or losing family support, drug addictions are on the rise. With greater availability and an increase of individuals living with addictive behaviours, drug and alcohol abuse is causing many fatal scenarios across Manchester and the United Kingdom in general.
Are you living with any side-effects? Or maybe you're concerned that your drug and/or alcohol addiction may lead to any of the above situations? If you care about yours or your loved one's future, now is the time to seek expert support.
For greatest results, seeking addiction treatment through a rehab centre in Manchester will be recommended. If you are based in Manchester or the surrounding areas in the North West, here at Cassiobury Court, we can support you. Relocate for a time of rehabilitation and transformation to improve your quality of life, drug-free.
What happens when I get to Cassiobury Court?
Upon admission into drug and alcohol rehab in Manchester our team will first carry out an initial telephone assessment when you first contact Cassiobury Court. This is so once you arrive from Manchester, you will be in a position to carry out a full assessment that is not too time-consuming and you will be ready to start receiving treatment as quick as possible.
In some of these cases we deal with in Manchester, individuals may receive a dual diagnosis, where they're suffering from an addiction as well as eating disorders or mental health issues. This means they may need additional support during their stay, and we want to ensure we do all we can.
Nearly all people who come to us for drug or alcohol rehabilitation in Manchester will need to go through a detox. Some people who arrive may have already tried to detox but found the withdrawal symptoms too difficult to handle, and we understand this is the toughest part for some. Because you're an in-patient, we can prescribe medication that's designed to help you through detox, providing a slight sedative effect, and we, of course, offer 24/7 support during this time.
What's Cassiobury Court like?
Coming to us for private rehab in Manchester means you enjoy a comprehensive treatment programme that's designed for long term success. However, it's not like being in a hospital or prison, you aren't locked up and it has a homely feel. Our Manchester rehab centre is set in a leafy suburb and looks like a period home from the outside. Inside, it has private and en-suite rooms available, as well as communal areas where you can socialise. There are pretty grounds and there's a large park nearby, allowing you to get fresh air and exercise when you need it.
While you stay at Cassiobury Court, we do all we can to help you stay sober in the long term. While some rehab clinics in Manchester simply offer detoxes or short programmes, our 28-day programme in Manchester allows you to enjoy workshops and relapse prevention talks, so you have the tools you need for life. When you're looking for drug and alcohol rehab in Manchester, we're confident that you'll find a few programmes as comprehensive as ours.
What support is available after rehab in Manchester?
No matter how great the rehab programme, we know that the first year of sobriety can be extremely difficult, and it's when you're most likely to relapse. That's why we offer a year of free aftercare to those who complete drug and alcohol rehab in Manchester with us.
We'll also help you access other forms of support available. Manchester offers a wide range of outpatient clinics and schemes that help people post-rehab, and you may want to join a local group such as Alcoholics Anonymous too, as this can help you build a support network.
Can you help with my addiction?
If you are based in Manchester and need help from addiction, Cassiobury Court offers treatments for a wide range of substance and alcohol addictions, which includes illegal and legal drugs that are available to all residents in the Manchester area.
We can also work with individuals in Manchester who have behavioural addictions, which can include pornography, video game/internet addictions, shopping or food.
Alongside our continuous support to Manchester residents, our industry-leading addiction treatments in Manchester will help you overcome your drug or alcohol dependency. Prior to creating your personalised treatment programme, our team will need to understand your addiction greater. Getting to the bottom of your influences and where your addiction has stemmed from will lead the rest of your treatment. From here, a holistic approach, including a variety of psychological, social and wellbeing therapies will be combined within your plan.
Treatments you can expect to see within your rehab in Manchester plan include cognitive behavioural therapy, group activities, meditation sessions, a structured detox plan, daily walks and one-to-one counselling sessions. The psychological methods will help you work on the underlying influences of your addiction, alongside any mental health issues you are experiencing. Our wellbeing therapies will promote self-care whilst inspiring a positive mindset moving forward. This combined with social activities will show you a life without drug and alcohol use, while building up your support network through your rehabilitation process.
Alongside a number of treatments we offer as part of drug and alcohol rehab Manchester, you will also receive relapse prevention and coping mechanism classes to help you prepare for your return home to Manchester. Currently, for most individuals with a dependency, they turn to their addiction to cope through the day to day scenarios. We will provide you with healthy natural ways of coping, along with providing a long-term recovery plan to help you live a life without drugs and alcohol.
You may think that residential rehab in Manchester is an extreme step and that your addiction isn't bad enough to warrant a stay with us. However, we've dealt with people in Manchester that are suffering from all levels of addiction, from those who've used drugs and alcohol for a few months, to those who've been addicted for years, perhaps even trying many forms of treatment before coming to us. As long as you're willing to put in the work, we can help.
Sometimes, it's friends and family members who contact us, asking if we can help their loved one. While we can't force anyone into receiving rehab in Manchester, we can offer advice and support and may suggest methods such as interventions to encourage your loved one to get help.
Return to Manchester drug and alcohol-free with our support
Please be assured that we will work with you throughout your treatment up until you feel ready to return home to Manchester. Throughout your visit, we will assess your progress to ensure that all efforts are helping you overcome your drug or alcohol addiction.
On your return home, you will receive free aftercare support to ensure that your transition back into your home environment is positive, helping you maintain recovery. To ensure that your environment is suitable, we will also offer family therapy sessions to confirm that your loved ones understand the severity of your addiction, the process you will be going through, and the help they can provide post-rehab in Manchester.
Together we can overcome your drug and/or alcohol addiction. Take the first step today for the opportunity to control your life and change your future. Work on your drug and alcohol-free future with our Cassiobury Court team today.
To begin the admissions process with our expert team, get in touch today on 01923 369 161 / or text HELP to 83222. We will answer any questions you have regarding rehab in Manchester, provide important information whilst recommending the best addiction treatment for you in the Manchester area.
Drug and Alcohol Rehab Manchester FAQ's
See below list of questions we are frequently asked by Manchester residents who are considering undertaking drug and alcohol rehab in Manchester.
Can you force someone into drug and alcohol rehab in Manchester?
We would not recommend forcing someone into rehab in Manchester unless they're suffering from symptoms that are very severe and need medical attention. An addict is most likely to get better if it's a decision made by their own free will but if they've yet to see that they need help they're options to help.
We can provide options such as family interventions which are designed to convince individuals that they need help by discussing their problems with those closest to them as well as our addiction recovery specialists who can offer professional advice and opinions on why they should seek help via drug and alcohol rehab in Manchester.
How long is a typical drug rehab and alcohol rehab programme in Manchester?
The average length of drug and alcohol rehab in Manchester is 28 days.
Why is 28 days the recommended length of drug and alcohol rehab in Manchester?
28 days is recommended as it allows enough time to carry out a full detox as well as fulfilling the range of therapies that are provided during a typical rehab programme offered in Manchester.