There is estimated to be 602,391 people suffering from alcohol addiction in England alone of which 82% don't seek help. Excessive alcohol consumption has a number of negative outcomes that can be very harmful to your health, this is why seeking treatment as early as possible is recommended.
When considering treatment for alcoholism, there are a number of options to consider. Alcohol rehab is an effective treatment option for those suffering from chronic alcohol dependency, continue reading to find out more about alcohol rehab and what you can expect.
The alcohol rehab and detox programme provided through or CQC registered clinic is intended to put clients on the path of full long-term recovery from addiction.
This is achieved through various evidence-based methods that have been developed through years of experience in providing addiction treatment to individuals throughout the United Kingdom.
Leaving alcohol addiction untreated can lead to very serious health problems such as liver disease. The decision to attend a residential alcohol rehab programme could be the most important decision that you have ever made.
This is why we have provided some useful information on this page that can be used when considering alcohol rehab treatment whether it's for yourself, a loved one or a friend.
Alternatively, you can discuss the treatment with a member of our admissions team by giving us a call today.
How Does Alcohol Rehab Work?
Our alcohol rehab treatment programme uses strictly evidence-based methods that have been proven to be effective in the treatment of alcohol use disorder.
See below step by step guide on how alcohol rehab at our CQC registered rehab centre works:
Step 1 – Admission
The approach we take to alcohol rehabilitation is centred fully around the individual with Dr and Nurse assessments carried out to determine the severity of your addiction and its potential root causes.
This is why the first step of alcohol addiction treatment involves a full addiction assessment that is carried out by both our onsite doctor and nominated nurse.
Gathering information through an assessment gives our team all the information needed to formulate a bespoke treatment plan that is focused on your individual needs.
Not every alcohol addiction is the same, many different factors can be attributed to the development of your substance abuse problem.
Examples of factors that can cause alcohol addiction problems:
Consistent Drinking Habits: You can develop an addiction just by simply drinking on a regular basis, this helps build up a gradual dependency that many do not notice until they make the decision to stop drinking.
Family History: Individuals who have grown up with close relatives suffering from an alcohol use disorder can be prone to developing the problem themselves, with a study published in 2017 showing that the risk of developing substance abuse problems is up to 4 times higher in individuals that grew up with a relative that had drinking problems.
Past Trauma or Life-Altering Events: People who have been through any traumatic experiences in their life are statistically more prone to alcohol abuse problems than individuals who have not.
Early Age Drinking: If you have started drinking at an early age then you are at a much higher risk of developing alcohol addiction.
The assessment will help our team determine whether any of the above factors could be contributing to your addiction and will help them decide on the best type of treatments and therapies that can help tackle any of these issues.
Arriving at the centre:
When a treatment plan has been put in place by our team you can then be admitted into our centre. Due to the ongoing COVID-19 pandemic, you will be asked to provide evidence of a negative test upon entry and then a PCR will also need to be taken. You will be asked to isolate until the results of the PCR test are returned.
Once you have completed your PCR test and it comes back negative, a face to face meeting will be set up with our onsite doctor and nurse who will go over what to expect over the coming weeks as well as carry out a medical assessment before starting the next phase of treatment.
Step 2 – Alcohol Detoxification
The alcohol detox stage aims to remove alcohol from your system. If you have been a 'chronic alcoholic', we will monitor you for any physical side-effects associated with alcohol withdrawal, like delirium tremens.
The alcohol detox phase of alcohol addiction treatment is where you will be expected to completely remove all alcohol from your system. This process will typically take up to 10 days if no harmful side effects in the form of alcohol withdrawal syndrome are experienced during this phase.
If you have been a 'chronic alcoholic', we will monitor you for any physical side-effects associated with alcohol withdrawal, like delirium tremens. We help reduce this risk by giving you access to around the clock medical care and prescription medication designed to help alleviate uncomfortable withdrawal symptoms.
Following the initial detox phase, our rehab programme takes on a more mental dimension in the form of various therapies. The programme will address mental problems that arise by virtue of your alcohol addiction and the subsequent detoxification process.
Many of our clients suffer from depression, post-traumatic stress disorder, and anxiety due to their alcohol addiction. We employ a range of psychiatrists and psychologists who are on hand to help you through these issues.
Alcohol Withdrawal Symptoms Timeline (Infographic)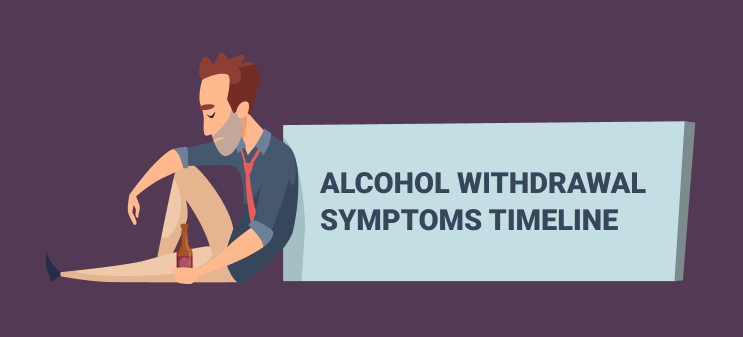 We have created a very useful alcohol withdrawal symptoms timeline infographic that shows when withdrawal symptoms (if experienced) commonly occur during typical detoxification. Click to see the alcohol withdrawal symptoms timeline.
Step 3 – Therapy & Psychological Treatments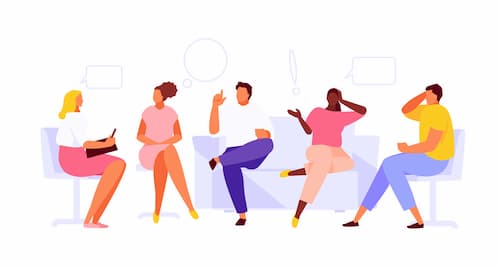 The psychological part of addiction treatment is where the root cause of your addiction will be addressed.
Using a number of evidence-based treatments and therapies our medical professionals will aim to show you the nature of your addiction and provide you with the equipment needed to sustain long term recovery.
All therapies provided through our private alcohol rehab are backed by extensive research and data proving them to be an effective component of treatment.
See below list of psychological therapies and treatment provided at our residential alcohol rehab clinic:
Acceptance and Commitment Therapy (ACT)
12 Steps of Recovery
One-to-One Keyworking/Counselling
Wellbeing Group Therapy & Meditation Sessions
Creative & Drama Therapies
Art Therapy
Alcoholics Anonymous (AA), Cocaine Anonymous (CA) and Narcotic Anonymous (NA) Support Meetings
AcuDetox
Body Scan Meditation
Step 4 – Discharge Planning & Aftercare
When the time comes to leave our facility a well-thought-out discharge plan will be put in place by way of an aftercare plan. The aftercare you receive will ensure the risk of relapse is kept to a minimum. We ensure our clients receive the support needed for a long and lasting recovery. We recognise recovery is a lifelong process.
Several different treatment options are available, but we firmly believe that our programme is the best around for dealing with alcohol addiction.
See below video from our director and leading addiction treatment expert, John Gillen explaining the best way to treat alcohol addiction:
What Are The Most Common Signs of Alcohol Addiction?
There are various signs of alcohol addiction, most are obvious but some can be hard to detect. Here is a list of the most common signs that you should look out for:
find yourself intoxicated more regularly
Regular mood swings
Always appear tired
Have a look of being unwell i.e. pale in the face
Drinking more to achieve the effects of being drunk
Less interest in activities/hobbies
Being dishonest, keeping secrets from people
Unable to say no to alcohol
If you are exhibiting one or more of these symptoms then it's likely that you have an addiction to alcohol and need to look into starting an addiction treatment programme similar to the alcohol and drug rehab programmes we offer at our centre.
How Effective is Alcohol Rehab?
The answer to this question is a resounding yes. However, the answer to this question depends on how you define success. When we say 'success', we refer to the situation when you return home and you live your life free of alcohol. This means success involves complete abstinence. To achieve this aim, we focus on increasing your motivation to remain in recovery for the long term. We help you build a strong support system, and we also provide you with a 'plan B' should relapse occur.
Whilst alcoholism is not curable, it may be arrested for effective addiction treatment. Offering an effective addiction treatment plan is at the core of what we offer at Cassiobury Court.
In some instances, we may advise you to stay in our care for a longer period of time than usual in order to help you in maintaining a steady recovery path. When recommending
a longer rehab duration, we assess the history and level of the addiction. We also attempt to diagnose any co-occurring mental health issues that could be the root cause of your addiction to alcohol.
Inpatient or Outpatient Treatment?
When considering whether to opt for inpatient or outpatient treatment it is first important to know what both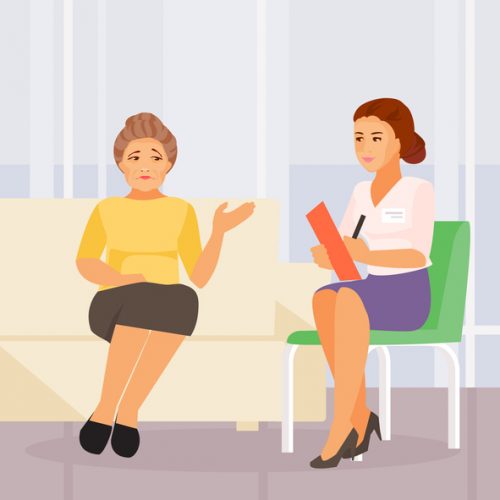 treatments involve, see below descriptions for more information:What is outpatient treatment?
Outpatient care involves patients coming into an addiction centre for regular counselling and therapy sessions for a few hours a day before going home.
What is inpatient treatment?
Inpatient care requires you to stay at a residential treatment centre for the duration of your drug and alcohol rehab programme.
Which treatment do we provide?
We don't provide outpatient care as we believe that inpatient treatment is more effective for our clients.
If you are suffering from chronic addiction, then urgent care and attention will be needed while going through alcohol detox, this level of care is not available through outpatient treatment.
The withdrawal symptoms experienced through detox can be severe and therefore needs care and attention from trained professionals that are available 24 hours a day, this is what makes inpatient treatment the safer and effective option.
Our Treatment Facilities
Cassiobury Court is a Greater London based alcohol rehabilitation centre. Located near Cassiobury Park, the former stables and coach house provide a homely accommodation spread across two floors with private gardens and grounds.
The facility is registered and approved by the Care Quality Commission (CQC) and includes:
Our main facilities include:
21 single bedrooms
Mixture of shared bathrooms or 10 individual en-suite rooms
Private individual therapy rooms
Comfortable communal lounge and dining area
Distraction-free settings
Large multi-purpose group activity room
Comfortable TV lounge
External courtyard and outside seating area
Wellbeing services
Tranquil gardens
Around the clock care
Nutritional food
If you are looking for an alcohol rehab clinic that is outside the Greater London area, then please take a look at one of our partnering centres which are based throughout the UK.
How Long Does Alcohol Rehab Take?
The duration of alcohol addiction rehab varies and the duration is typically dictated by the severity of the client's addiction. You are able to attend our programme typically between 10 and 28 days. The more chronic the alcohol addiction, the longer the recommended stay will be.
How Can I Help A Family Member Receive Rehab?
Alcohol addiction does not just impact the individual as it also impacts everyone around them.
Friends and family members take on a great burden when dealing with someone harmed by the effects of excessive alcohol consumption.
Negative behavioural changes come hand in hand with alcohol dependence and can be scary for loved ones to witness. As well as this, the health damages brought on by alcohol use disorder is also something that many families worry about.
If you are a loved one experiencing this then there are some options to consider.
The decision to receive rehab treatment is one that can only be made by the addicted person, this is why it's important to make sure you tackle the issue in a way that will encourage your loved one to get treatment and not drive them further away from the solution.
Many individuals who have developed an addiction have so because they're in denial about their problem. Forcing them to get help has proven to only further this denial about the problem.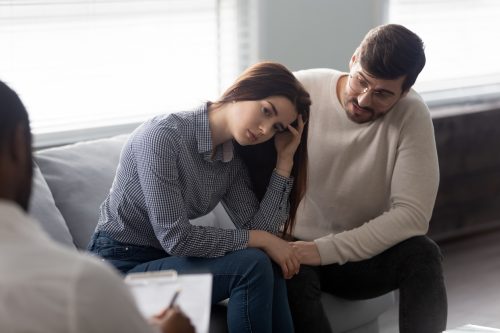 This does not mean you should make excuses for them, but please be mindful about when to confront them.
It is not recommended to confront them when under the influence.
When you decide to confront your loved one about their addiction problem, as hard as it may be you will need to convey a calm and gentle attitude in order to show that you care and are only trying to help.
If this tactic does not work then it is important not to get aggressive, try giving them some space to think and bring up the discussion again at a later date after they have hopefully had a think about your talk.
Another alternative option to try if the above does not work is to reach out to our admissions team and arrange a family intervention.
An intervention is one of the most effective strategies families can use to convince a loved one to receive alcohol rehab treatment.
The process works by arranging a meeting between loved ones, the addictive individual and a member of our addiction recovery team.
The meeting will start with an assessment of the current situation facing your loved one and their family members and will outline the harms caused to all parties if current drinking patterns are continued.
Adding an addiction recovery specialist into the discussion often educates the addicted individual about the problems they're suffering with and plays a big part in getting them to admit their problem and accept treatment.
Visit here if you would like to learn more about our family intervention service.
How Much Does Alcohol Rehab Cost in the UK?
One common question you may have is 'how much does rehab cost in the UK'. Many people assume going to rehab is cost-prohibitive. Perhaps this is because many celebrities have been known to go to rehab in recent years, a fact that's been well publicised in the media. This assumption is false, and going to rehab is well within the reach of ordinary people like yourself.
If you choose to select a purely outpatient rehab provider, you should expect to pay less when compared to attending a full residential rehab provider. There also exists a sort of hybrid between residential and outpatient treatment.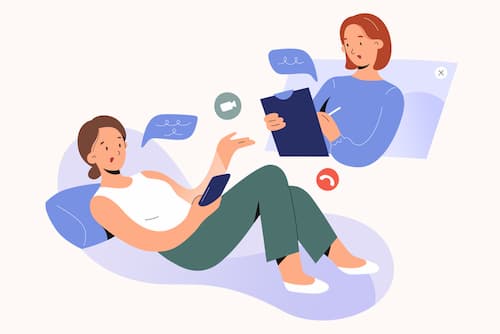 This is known as quasi-residential rehab. Quasi-residential rehab is where you attend therapy sessions in one building during the day, but live within a 'sober living' facility during the nighttime. Quasi-residential rehab may offer cost advantages over full residential rehab, however, quasi-residential does not provide an adequate level of care for many people experiencing issues with substance misuse.
The amount of money you must invest in your rehab treatment is also influenced by the amount of time you choose to remain in a rehab centre. If you say in a rehab centre for seven days, the level of investment will be substantially less than a four-week stay. Note we use the word 'invest' and not 'cost'.
Whilst the level of investment required for a seven-day rehab may be less than a four-week rehab, the cost may be higher. Why? Because short-term rehab programmes are more likely to result in relapse. If you do experience a relapse, you will have to write off the initial cost of going to rehab and absorb more fees in undergoing a subsequent detox and rehab programme.
These costs may have been avoided if you had initially selected a longer-term rehab programme from the outset.
Despite being known as one of the UK's leading residential rehab centres, Cassiobury Court is known as a 'mid-range' rehab. This means we offer affordable rehab. However, we also offer excellent care and therapy. Whilst you should not expect gold plated taps, we do offer a rehab that's highly satisfactory in terms of your personal comforts.
You will benefit from round-the-clock care, and you will also benefit from quality therapy techniques that are known to assist in your fight against substance misuse. We have a number of different clinics across the UK and Europe, so we can help you find a rehab that is in a different environment if you wish.
Alcohol Rehab Through the NHS
Some of you reading this page will qualify for public funding to assist in your fight against alcohol addiction. 'NHS rehab' is a misnomer, since local councils have administered statutory addiction services since 2012. In order to qualify for statutory rehab funding, your needs will be triaged and the decision to grant you funding will be fully assessed by a notoriously strict funding committee.
Cassiobury Court is an NHS qualified provider, our alcohol rehab programmes can be funded by the NHS if you are strictly a Hertfordshire based resident.
In most instances, when seeking treatment through the NHS you will be granted access to outpatient/community-based treatment before access to residential treatment is granted. From our experience, it is extremely difficult to access these services without suffering from a significant mental or physical health problem.
The vast majority of people seeking these services will be denied access to them due to strict and arguably unfair triage rulings. Furthermore, even when council-funded rehab is offered, you must typically wait many months until this decision is granted in your favour.
Many people suffering from acute alcoholism simply do not have at their disposal this amount of time. Thus, many people are faced with a situation where they must fund their rehab treatment themselves.
Alcohol Rehab at Home?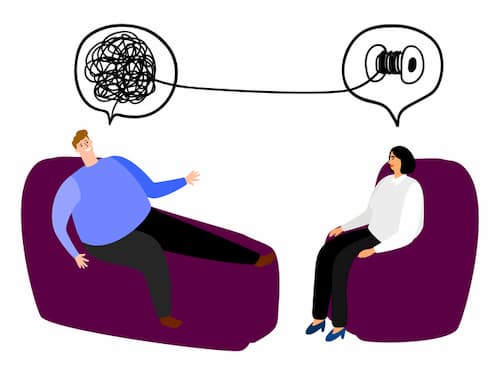 Undergoing a detox for alcoholism is undoubtedly not the most comforting experience you will ever undergo. Many people who require an alcohol detox may thus be attracted to the idea of undergoing this process from the comfort of their own homes. At Cassiobury Court, we neither offer nor recommend undergoing alcohol rehab at home, and studies have shown that residential rehab can be an extremely effective alcohol addiction treatment.
Why? Because undergoing alcohol rehab is a potentially life-threatening experience – especially if withdrawal symptoms haven't been experienced previously. When you undergo a rehab programme from your home, you do not have access to the same level of safeguards that exist when you undergo the procedure at a residential rehab facility.
Alcohol Rehab or AA Support Groups?
Alcohol rehab and Alcoholics Anonymous (AA) should not be directly compared or offered as an alternative to one another. Alcohol rehab aims to assist people who are suffering from acute alcoholism.
AA support groups intend to assist people who are already in recovery and who now wish to avoid relapse. AA and alcohol rehab are complementary to one another. Both strengthen each other, and we strongly advise you to attend AA meetings both during and after your alcohol rehab programme has concluded.
Alcohol Rehab With Insurance?
You may pay for alcohol rehab through a valid medical insurance policy. Many leading health medical insurers such as BUPA, AXA, Aviva, Cigna, JSIS and Aetna will cover the cost of alcohol rehab. A medical health insurance policy may pay for all or part of the costs involved when you undergo alcohol rehab. You must check the terms of your policy and preferably correspond directly with your insurer when enquiring about this possibility.
At Cassiobury Court, our admissions team will be glad to advise you on the process involved when making this claim through your medical insurer. Many of these insurance companies have Cassiobury Court as a preferred alcohol rehab provider.
Areas We Cover
See below list of just some of the locations our leading alcohol rehab service covers in the United Kingdom.
Call us today on 01923 369 161
Call Cassiobury Court today to start your journey to a full recovery. You can contact our admissions team today on 01923 369 161 who will take you through the admissions process.
Take the first step today, if you are dealing with a drug and alcohol addiction or either, we are certain that spending time in one of our treatment centres will allow you to break free from the addictive behaviours which are holding you back from living the life you were supposed to live.
Additional Alcohol Rehab FAQs
To add to the above most common questions we are asked regarding alcohol rehab, we have also included the below most frequently asked questions we receive with in-depth answers.