Alcohol Is An "Unhealthy Coping Strategy" During Coronavirus Lockdown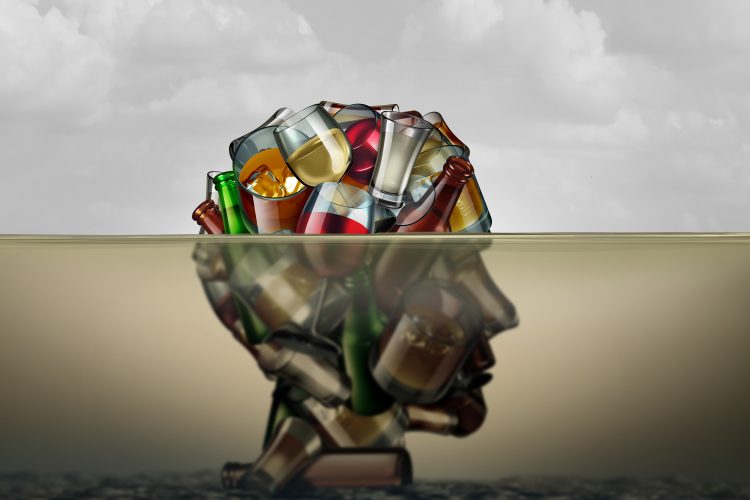 The World Health Organisation (WHO) has spoken out about the use of alcohol as a coping mechanism during the COVID-19 lockdown, labelling it an "unhelpful coping strategy," according to a new report.
Dr. Aiysha Malik, a technical officer in WHO Europe's mental health and substance abuse department, speaking on behalf of the organisation, told The Independent that she understood why people might turn to alcohol during this difficult time. However, she cautioned that relying on alcohol to curb anxiety and cabin fever "can make things worse."
 It is understood that many people across the UK may be turning to the bottle at this time, as a new survey indicated that almost two-thirds of adults across the country are feeling anxious in the face of the pandemic.
Dr Malik said: "It's important that the government, alcohol producers and retailers keep reminding us that it's best to stick to 14 units a week or less,"
"With routines out of the window, we might well find ourselves reaching for a drink more often."
UK Public 'Stocking Up'
The WHO warning isn't without a good basis, as retailers have reported a sharp rise in alcohol sales. Recently the government added off-licenses to the list of "essential" businesses allowed to remain open during the lockdown, giving rise to a number of pubs and breweries launching alcohol delivery services in a bid to stay open.
Tom Harvey, co-founder of marketing agency YesMore, has published a list of guidelines designed to help brands promote healthier messages in alcohol advertising during the coronavirus crisis.
He has implored retailers to be careful of the way in which they market their products, encouraging breaks from drinking and steering clear of slogans such as 'gin and bear it'.
Harvey said: "This isn't just about those people with a known drinking problem. We're all isolated now; drinking to get through it and often drinking alone. This isn't a good combination. This isn't a time to be putting any extra strain on our bodies, or on the NHS."
Harvey also said that retailers could even try to enforce a rule to "only sell alcohol alongside food during this time in an effort to look after your customers' health."
Caterina Giorgi, chief executive of the Foundation for Alcohol Research and Education, speaking to the Sydney Morning Herald, said: "Once people start using alcohol to cope with anxiety, that's a slippery slope.
"If you're sitting around and drinking alcohol all day then you're not being as healthy as you can be. It might not seem a lot but it adds up over time for chronic disease, and it weakens your immunity to be able to fight COVID-19 if you do get it."
What Problems Could Be Caused By Drinking To Cope With Stress?
Elaine Hindal, CEO of Drinkaware discussed the negatives of stress-drinking with The Telegraph. She points to the short-term physical effects of drinking on the body, which can actually cause more stress than it eases, saying: "In the short term, alcohol often helps you to fall asleep quickly.
But through the night, it interferes with rapid eye movement (REM) sleep, which is the deep sleep that refreshes you,"
"You may find yourself waking up in the middle of the night and unable to get back to sleep. By the time it gets to morning, you don't feel refreshed at all."
Hindal also mentions the fact that whilst alcohol may temporarily alleviate anxiety, this can cause bigger problems long term. "Alcohol is a depressant, so people who are drinking more than usual may find themselves thinking more negative thoughts.
Stress drinking can also contribute to their overall feelings of anxiety, depression, and generally bringing down their mood," she said.
There are also fears that, once people get into a cycle of drinking, they may find it hard to quit or go back to their regular intake once restrictions are lifted.
Addiction Services Limited
It is no secret that drug and alcohol services have been overstretched over the past few years, as increasing government cuts have taken their toll. During lockdown, this situation is likely to escalate, as those with existing substance use disorders face a higher risk of relapse, and NHS hospitals and clinics are strained thanks to the coronavirus.
Experts acknowledge that there is a very careful balance to strike for the UK when dealing with alcohol matters. The economic strain on retailers and hospitality businesses needs to be alleviated as much as possible, and dependent drinkers must be able to access enough alcohol to avoid withdrawal. But it is still crucial that the wider British public is not encouraged to drink more than they usually would.
"While keeping off licences open is consistent with clinical advice to protect those who are physically dependent on alcohol from going into dangerous withdrawal, they wouldn't want to unintentionally send the message that alcohol is 'essential' to all our lives," Alcohol Change UK's chief executive, Dr Richard Piper, said, speaking to The Independent.
"It's important that the government, alcohol producers and retailers keep reminding us that it's best to stick to 14 units a week or less."
How To Avoid Drinking Too Much
The standard government guidelines for alcohol consumption have not changed. It is still recommended that adults drink no more than 14 units per week, and have several drink-free days per week.
It can be hard to keep track of these units – it works out to around 6 or 7 drinks per week – but some drinks are stronger than others and the danger of self-pouring is that you may accidentally make drinks stronger than you would be served in a pub or bar.
The key is to drink mindfully, keep track of how many drinks you have had and be aware that you are drinking so that you don't find yourself consuming drink after drink watching the television or checking social media
Cassiobury Court is available to help if you or a loved one has a drinking problem. We can provide advice and support regarding staying safe and coping with anxiety, as well as professional detox and rehab services if this is what you feel you need.
You can phone us on 01923 369161 or you can text HELP to 83222 to find out more.