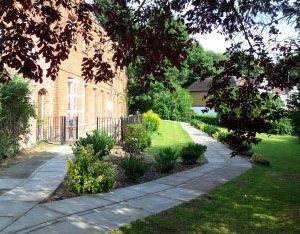 At Cassiobury Court, we offer private alcohol rehab and drug rehab in a beautiful residential setting.
Our clinic is based in Watford, Greater London and offers a peaceful setting with discreet gardens and grounds that everyone is free to enjoy during their stay with us.
What's included with Private Drug and Alcohol Rehab
With private alcohol and drug rehab, there is no waiting around. Unlike free local health services, we're able to admit you into our care within 48 hours of your initial contact.
Unfortunately, local health services don't have the funds, time, or resources to do this, so you'll likely be added to a long waiting list to receive your treatment plan.
This time spent waiting has the potential to be detrimental to your overall recovery, therefore we strongly suggest coming straight to a private rehab centre like ours to avoid wasting your efforts.
Urgent care and evidence-based treatment are what sets private alcohol rehab and drug rehab apart from addiction treatment offered from public services which can be stretched due to high demand and not enough beds. Our 21-bed clinic provides enough space for a large number of admissions with arrangements in place to deal with urgent care.
Alternatively, we can offer admission into other clinics as we are run by Rehab Clinics Group who manage other clinics based throughout the country.
Wherever you are seeking help from, our dedicated team of addiction specialists have years of experience dealing with people suffering from addictions and can provide extensive advice and support.
Here are some of the services you can expect when choosing a quality private drug/alcohol rehab clinic:
FREE 1-year aftercare plan after leaving the centre
24/7 medical support
Specialised detoxification treatment
Highly skilled and experienced staff trained to treat all alcohol and drug addictions.
Excellent residential rehab care
An individually tailored treatment plan
Completely confidential drug detox and private alcohol detox
ALL of our staff are qualified and can deal with behavioural addictions
If you would like to find out more about our services or if you have any questions about the clinic in general then please feel free to get in touch with our team now on 01923 369 161.
Our Private Alcohol Rehab and Drug Rehab clinic can offer same day Admissions
We take pride in offering a quick admission process that makes sure you can start receiving private alcohol rehab and drug rehab as fast as possible. By getting in touch with us directly, you will be rapidly speeding up the process of your recovery and depending on the state of your addiction this could potentially be a lifesaver.
The rehab treatment we offer is carried out by health professionals with years of experience in addiction recovery. The amount of time you are with us is completely dependent on the severity of your addiction and how long the detoxification process takes.
The detoxification stage of drug and alcohol rehabilitation includes the removal of all harmful toxins from your system, this can result in withdrawal symptoms that can make the process uneasy. With private alcohol rehab and drug rehab you will have access to 24/7 care from our staff who will monitor your withdrawal symptoms and administer prescription medication if required.
After undergoing a successful drug and alcohol detox, you will move onto therapies such as cognitive behavioural therapy (CBT), counselling sessions, stress management, and relapse prevention, all of which are designed to help you understand your addiction more and how to take control of your mind by teaching you how to deal with any urges that could trigger a relapse of your addiction.
In addition to these psychological focused therapies, we also ensure our clients' well-being is taken care of by delivering mindfulness, yoga, art therapy, fitness therapy, relaxation and sleep management, and low-level laser therapy. Visit our facilities page to view pictures of our clinic.
How much does Private Alcohol Rehab and Drug Rehab cost?
Private drug and alcohol rehab isn't free like the NHS – however, the positives of paying a fee significantly outweigh the negatives of joining a long waiting list. You can read more about our service compared to a free service here. Typically, the costs of private treatment options start from around £3,000 upwards and for the full detox and rehabilitative process you can expect to pay more – obviously, the pricing depends on the substance and severity of the addiction.
Alternatively, if you aren't able to afford private alcohol rehab and drug rehab you can still receive treatment from Cassiobury Court through the Herts Valleys CCG. This service is only available in locations that are managed by Herts Valley CCG.
Don't Just Take Our Word For It
For almost a decade, Cassiobury Court has been one of the UK's private alcohol rehab and drug rehab clinics, supporting in excess of 3000 clients in there personal journey towards a life free from addiction. Take a look at just a selection of our testimonials by watching the video below.
Contact us now about our Private Alcohol Rehab and Drug Rehab Clinic
Whether it is you or a loved one seeking help, you can be sure that by choosing us you will be dealing with private alcohol rehab and drug rehab specialists. This means you will not be part of a long waiting list and you will be able to immediately start evidence-based drug and alcohol rehabilitation programmes with minimal waiting.
Not all of our clients are from the United Kingdom, due to our location in Greater London we also receive admissions from clients based in countries across the globe.
If you are based internationally and want to receive rehab treatment in the UK then this is also something our team can help facilitate.
To set up admission into our private alcohol rehab and drug rehab clinic or to find out more, please get in touch with our team today on 01923 369 161, text HELP to 83222, or fill out our contact form and we will be in touch. Start your journey to a happier, healthier life, free from addiction today.