Drug and Alcohol Rehab Glasgow
When national studies are carried out on drug and alcohol addictions, Glasgow is often at the top of the list for people suffering from this disease. There has long been a culture of binge drinking in the city, which for some people has gotten out of control, while there are also large quantities of drugs available throughout Glasgow, including heroin, Cocaine, Cannabis, Ecstasy and legal highs. This means that many people are seeking drug and alcohol rehab in Glasgow to overcome their issues.  Due to the sheer amount of people seeking alcohol rehab in Glasgow, it can be difficult to access NHS care, which is why you might be considering private drug or alcohol rehab in Glasgow as an option for treatment. Cassiobury Court offers world-class drug rehab or alcohol rehab in a comfortable, homely setting, giving you an amazing place to start your recovery in Glasgow.
Why do people in Glasgow become addicted to drugs and alcohol in the first place?
Drug and alcohol addiction is a complex condition that can arise from various factors, including biological, psychological, social, and environmental factors. Here are some reasons why people may become addicted to drugs or alcohol in Glasgow:
Genetic factors: Research has shown that genetics can play a role in addiction. Some people may have a genetic predisposition to addiction, making them more susceptible to developing a substance use disorder.
Trauma: Experiencing trauma, such as abuse or neglect, can increase the risk of developing an addiction. Trauma can lead to feelings of anxiety, depression, and low self-esteem, which may prompt individuals to turn to drugs or alcohol as a coping mechanism.
Mental health issues: Mental health problems like depression, anxiety, or PTSD can lead to addiction. People with mental health issues may turn to drugs or alcohol to self-medicate, or substance abuse may worsen existing mental health issues.
Peer pressure: Peer pressure can be a significant factor in the development of addiction. Individuals may feel pressure to conform to their peers' behaviour or may start using drugs or alcohol as a way to fit in or cope with social anxiety.
Environmental factors: Environmental factors such as poverty, unemployment, or lack of access to education or healthcare can increase the risk of addiction. Individuals living in disadvantaged areas may be more likely to experience social isolation, stress, and trauma, which can lead to substance abuse.
It's important to note that addiction is a complex condition with no single cause. Many factors can contribute to the development of addiction, and every individual's experience is unique. Effective addiction treatment involves addressing the underlying causes of addiction and providing comprehensive care that addresses the physical, psychological, and social aspects of addiction.  Our drug and alcohol rehab in Glasgow offers precisely this.
Choosing residential rehab in Glasgow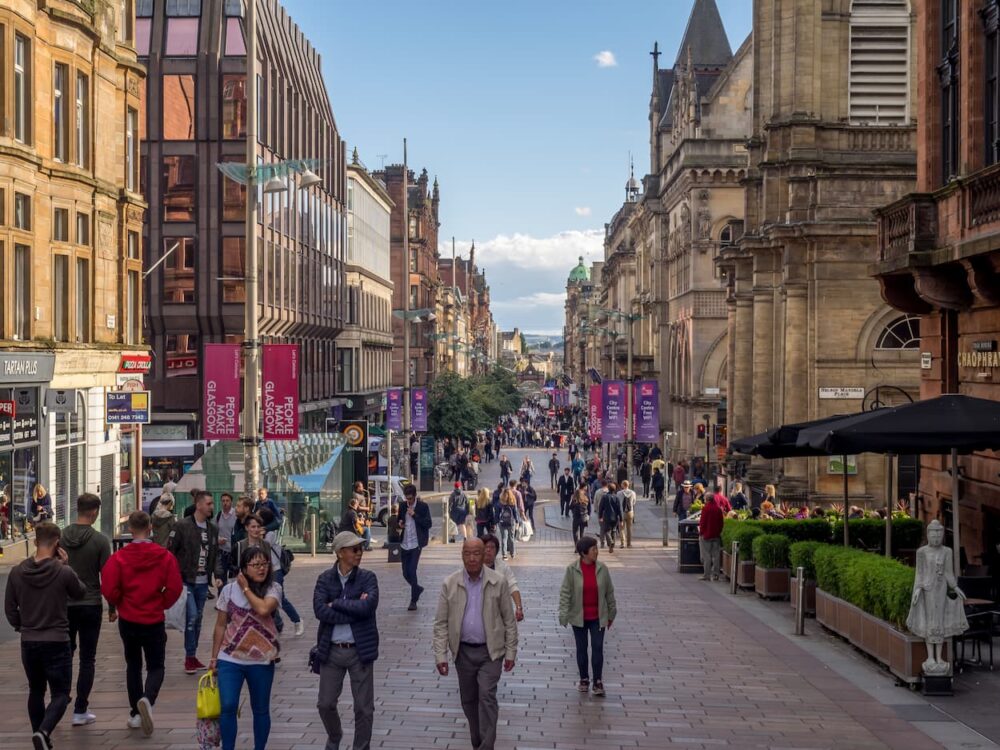 Residential Drug and Alcohol Rehab Treatment in Glasgow, Scotland
When you search for drug and alcohol rehab in Glasgow, you'll be presented with a number of options, from home detoxes to outpatient clinics. While these programmes can work for some people, it's our experience that your best chance of addiction recovery is through residential alcohol rehab treatment in Glasgow. Not only is this kind of treatment more intensive, allowing you to go through huge amounts of therapy in a 28-day programme, but it also allows you to be away from temptation and negative behavioural patterns that often occur during addiction.
Opting for private Drug and Alcohol Rehab in Glasgow
Drug and Alcohol rehab services in Glasgow have been overstretched for a long time, and with cuts to the NHS in general, the waiting lists are unlikely to get any shorter. When someone with an addiction agrees to drug or alcohol rehabilitation, time is of the essence, and any delay could worsen their problem. By choosing a programme at Cassiobury Court, you can get admitted within 48 hours rather than waiting for weeks or months, so there's no reason to put off receiving treatment in Glasgow.
In many cases, people aren't offered suitable treatment, so they have to make do with whatever the NHS can provide. They may be offered a drug or alcohol detox but then not have much in the way of follow-up treatment or support. When you contact Cassiobury Court for drug and alcohol rehab in Glasgow, you can be sure that the treatment is tailored to you, giving you the best possible chance of success.
Free Drug & Alcohol Support in Glasgow
There are many free support options for drug and alcohol addiction in Glasgow. Here are some helpful options;
Govanhill 12 Step
Wednesday
The Barn, 37 Abbotsford Pl, Glasgow
Time: 20:00 – 22:00 duration 2hrs
Distance: 1 mile
Postcode: G5 9QS
(wheelchair access available)
Any Lengths
Wednesday
Art Room, Lodging House Mission (Trotters), 35 East Campbell Street, Glasgow
Time: 17:30 – 18:30 duration 1hr
Distance: 1 mile
Postcode: G1 5DT
What addictions are treated at our Glasgow Rehabilitation Centre?
At our Glasgow-based addiction rehab centre, our expert medical team can provide treatment for the following substance and behavioural addictions:
Alcohol rehab
Our Glasgow rehabilitation centre specialises in treating individuals who struggle with alcohol addiction. Our rehab programme offers medically supervised detoxification, counselling, support groups, and other therapies to help you overcome physical dependence on alcohol and address the underlying psychological factors that contribute to your addiction.
Drug rehab
Similar to the above Alcohol Rehab Glasgow, our centre also specialises in treating individuals with addiction to various drugs such as cocaine, heroin, methamphetamine, and prescription drugs. Our drug addiction treatment programs involve a combination of medication-assisted therapy, behavioural therapy, and counselling to address the physical and psychological aspects of addiction.
Cocaine rehab
Cocaine addiction is quickly becoming one of our most treated addictions in Glasgow, we have treatment programmes which specifically focus on helping to treat individuals with cocaine addiction problems. Treatments include medical detox, cognitive-behavioural therapy, motivational interviewing, and contingency management to help you overcome your addiction and develop the skills necessary to maintain long-term recovery.
Other substance and behavioural addictions we treat include:
Sex Addiction
Porn Addiction
At our Glasgow Rehabilitation Centre, we recognise that all of the above addictions often arise due to the challenges of dealing with other mental health issues like depression, anxiety, and stress.  Our expert team at our Glasgow rehab centre have a wealth of experience treating not just substance and behavioural addictions but also co-occurring mental health conditions, otherwise known as dual diagnosis.
Successful rehabilitation from all types of addiction generally requires ongoing support and engagement in our aftercare programs.
What to Expect from Drug and Alcohol Rehab in Glasgow
The Drug and alcohol rehab programs we provide in Glasgow are very structured and generally 14, 21 or 28 days in length. Here are some general expectations that you can have when entering our drug and alcohol rehab program:
Assessment: Before beginning our drug rehab or alcohol rehab treatment program, you will undergo an initial assessment to determine the nature and severity of your addiction and any co-occurring mental health conditions that may need to be addressed.  The initial assessment is completed via the telephone, and then our Dr or Psychiatrist will complete a more in-depth program when you arrive at the centre.
Detox: If you are physically dependent on drugs or alcohol, you will need to undergo detoxification to safely and comfortably withdraw from the substance. Our medical professionals supervise this process and may involve medication-assisted treatment to manage withdrawal symptoms.
Counselling and therapy: The cornerstone of our drug and alcohol rehab treatment programs in Glasgow is counselling and therapy. You can expect to receive individual and group counselling and behavioural therapies. These therapies help you identify and change negative thought patterns and behaviours contributing to your drug and alcohol addiction.
Education: You will receive education on addiction and recovery, including the effects of drugs and alcohol on the body and brain, coping mechanisms, relapse prevention, and healthy lifestyle choices.
Support groups: You will participate in support groups such as 12-step programs or other peer support groups, which provide an opportunity to connect with others in recovery and receive ongoing support.
Aftercare planning: Before leaving the program, you will receive an aftercare plan, including ongoing therapy, support group attendance, or other resources to help you maintain sobriety and prevent relapse.
It's important to note that addiction treatment is a highly personalised process, and your treatment plan will be tailored to your unique needs and circumstances. The above-mentioned points are just a general overview of what to expect from our program for drug and alcohol rehab Glasgow.
Your time at Cassiobury Court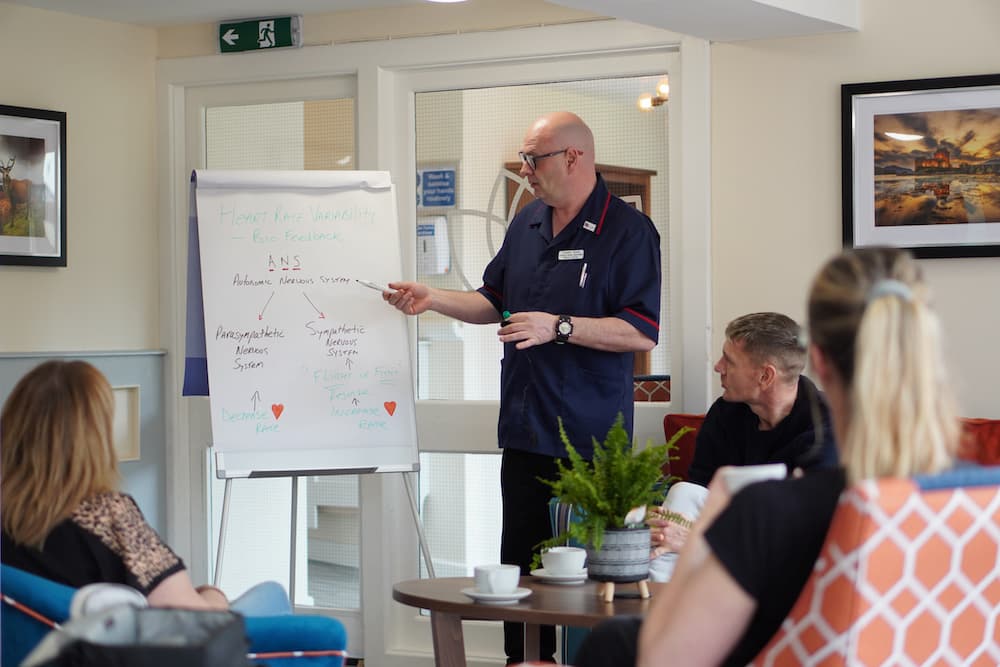 When you make the initial phone call, we'll conduct a telephone assessment to decide whether this kind of treatment suits you. If you decide to go ahead, we'll ensure you're admitted quickly and can fully assess your alcohol or drug addiction. Many people who come to us also need help with their mental health, so we'll discuss what support we can provide during the programme. Each rehab treatment programme in Glasgow is tailored to the individual; as we know that addiction has many causes, so what works for one person might not work for someone else.
We help you go through a detox, which can involve several withdrawal symptoms, so we'll help you by prescribing medication and offering lots of support. When you stay at Cassiobury Court, you have people to help you around the clock, which you don't get as an outpatient.
At Cassiobury Court, we offer many different types of therapy, both traditional and holistic, which can help you overcome your addictive behaviours. This includes Cognitive Behavioural Therapy, group therapy, holistic treatments and much more. One of the big advantages of treatment centres in Glasgow when compared to outpatient programmes, is that you can try a combination of therapies rather than one at a time, giving you the best chance of getting and staying sober.
You'll get a year of free aftercare if you complete your 28-day programme at Cassiobury Court. This allows you to stay in touch with us and to keep on track during that tough first year after rehab in Glasgow. If you complete your programme and aftercare, you have an excellent chance of staying sober in the long term.
Staying with us
When you are looking for drug and alcohol rehab in Glasgow, you may assume that you'll be staying somewhere that's like a hospital or a secure unit. However, our addiction treatment centres are homely and comfortable places to stay, and we work hard to help you relax when you arrive. Some drug and alcohol rehab clinics in Glasgow can be a little daunting, but we ensure you are given a warm welcome and made to feel at home.
We offer options such as private and en-suite rooms, which allow you to enjoy extra peace and privacy. There are comfortable communal areas and treatment rooms where you can attend therapy sessions. We want you to feel positive and happy when you stay with us.
How to get started with Drug and Alcohol Rehab in Glasgow
Whether you've suffered from a drug or alcohol addiction for a few months or for years, we are here to help when you decide you need it. Many people come to rehab because their drinking or drug use has caused health problems, while others may have suffered a relationship breakdown or job loss because of their substance abuse. Whatever your situation, you can be sure of a friendly, non-judgemental environment where you can heal.
If you need help with drug or alcohol rehab in Glasgow, speak to Cassiobury Court to find out more about the treatment programmes we have available to Glasgow residents. Simply call us on 0800 001 4070 or text HELP to 83222 for a quick response.