Drug and Alcohol Rehab Ayrshire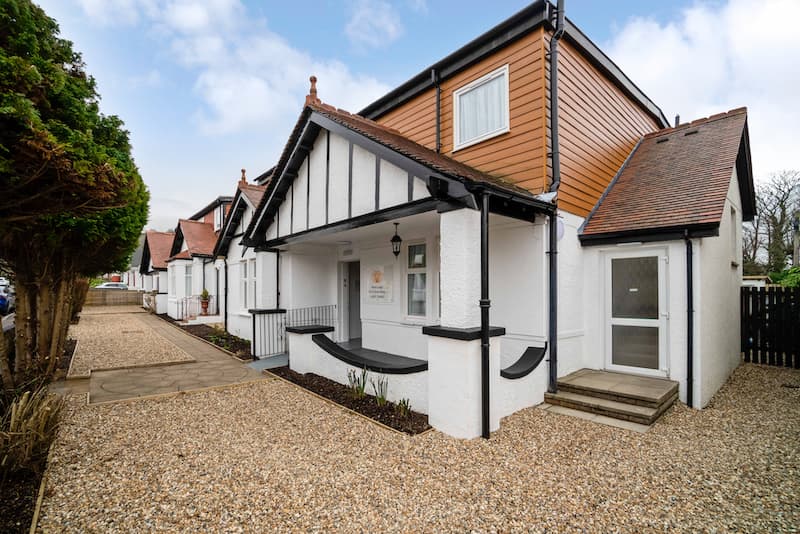 Key offerings available include:
1:1 Support from Clinical Nurse Practitioners, Registered Mental Health Nurses and Therapists
Access to Trained Psychiatrists
24 Hour Nursing Care
Comfortable & Quality Accommodation
Clinically Led Recovery Model Underpinned by Dialectical Behavioural Therapy (DBT)
1 Year Aftercare
Many individuals believe that the severity of their drug and alcohol addiction will dictate the suitability for rehab. It's understandable why this may be the case, as in movies or programmes, users are commonly at rock bottom when
drug rehab
is mentioned.
However, we live in reality, where any degree of addiction is dangerous, requiring professional addiction treatment.
With this in mind, instead of following the preconceived ideas around drug and alcohol rehab, it's time to follow your readiness to recover. This is the exact moment where drug and alcohol rehab will transition into a valuable process.
Without that readiness, there's a likelihood that advice will fall on deaf ears, and that susceptibility to addiction treatment will be low, making rehab a pointless investment.
To ensure that you're ready, it's time to do your research and understand what to expect from rehab. We're here to help at Cassiobury Court, with the potential to facilitate the entirety of your rehab experience.
Yet, to initially support you with your decision, here's the ins and outs of rehab, of visiting a local drug and alcohol rehab in Ayrshire and of the timings of rehab.
Is now the right time to rehabilitate?
Are you in the mindset to truly focus on withdrawing from drugs and alcohol? Do you know what to expect from rehab? Are you prepared for the challenges of rehab? If you've answered no to the above, there's a strong likelihood that your readiness to recover is lacking.
Readiness is the key indicator to visit a drug and alcohol rehab. The severity of your addiction shouldn't drive this decision. With this in mind, for now, to be the right time, you must feel prepared on physical and psychological levels.
Preparations can include anything from ensuring you have enough time for rehab, including resources to invest, to doing your research, understanding the intentions of rehab, and also by finding a fitting drug and alcohol rehab in Ayrshire or beyond.
Preparations will move you closer to the point of readiness. Once you reach this point, you'll be in the right mindset to accept professional support and complete a range of addiction treatment services, to their fullest.
Should I overlook a drug and alcohol rehab in Ayrshire?
Ideally, if you are struggling with an addiction, yes overlooking a drug and alcohol rehab in Ayrshire will be recommended. This will be down to the fact that, currently, you'll be experiencing triggers, causing drug and alcohol abuse.
Those triggers will be associated with your everyday life, whether that's your job, your environments or your social activity.
In order to experience a distraction-free rehab programme, you will be best off removing yourself from all exposure to those triggers. With this in mind, leaving Ayrshire for residential rehab will be encouraged, offering you physical and psychological distance away from the addictive characteristics of drugs and alcohol.
What's expected of residential rehab?
Residential rehab is the opportunity for you to bypass those triggers back in Ayrshire, by experiencing a home from home, for your rehabilitation programme. Here's where you'll reside from your chosen rehab clinic, with everything to support you available under one roof.
You can expect to complete a personal rehab programme via residential rehab which will be catered around your personal needs. This will include the length of your stay and the form of support that you will respond greater to, to a range of leading addiction treatment recommendations.
You can expect to complete anything from detoxification, CBT, relapse prevention, stress management and motivational therapy.
By selecting residential rehab, you can expect to be provided with the optimal chance to recover, to withdraw safely, to repair and rejuvenate, and to plan ahead for life back in Ayrshire.
Your quality of life will be uplifted, your outlook of substance abuse will be changed, and your life will undergo a positive transformation to help you work towards long-term recovery.
Many individuals will worry about residential rehab. It's reasonable to see why, as a move from Ayrshire will be necessary. However, through this short-term sacrifice, you can benefit greatly through the most effective and sought-after recovery process of residential rehab.
Please feel reassured that at Cassiobury Court, we are specialists, offering residential rehab as a standard. You'll soon feel at home here at our Watford located rehab clinic.
How soon can I recover?
You can begin your recovery process as soon as you reach out here at Cassiobury Court. Your initial rehab stay will likely take 28 days, in order for you to meet the milestones associated with drug and alcohol rehabilitation.
However, when considering the overarching goal of recovery, this can take some time to normalise.
Recovery is in fact for the long-term, where you must commit yourself to ongoing efforts to avoid drug and alcohol exposure.
Through drug and alcohol rehab, you'll be provided with skills and coping strategies to embark on this journey. You'll also have a relapse prevention plan and aftercare services available to you via a drug and alcohol rehab in Ayrshire to help you normalise a life without drugs and alcohol.
Please be mindful that long-term recovery will take some time. It is a commitment you must make in order to fully benefit from what's on offer through rehab and beyond.
What's the intention of drug and alcohol rehab?
The intentions of drug and alcohol rehab are to help you to withdraw from addictive substances and accept a new life without them. It is a structure, a process, a programme, in place to motivate and guide you towards long-term recovery.
However, you must be ready and invested in rehab, in order to benefit from the value, it has to offer.
Rehab will always be here for you. Yet, drugs and alcohol will not be when considering positive support. Through our residential rehab offering, you can work to detach from drugs and alcohol, along with improving the quality of your future, back in Ayrshire.
Whether you favour a drug and alcohol rehab in Ayrshire or residential rehab, we urge you to be ready and to understand the full commitment of recovery. By doing so, you'll have a greater experience and greater results linked to drug and alcohol rehab.