Drug and Alcohol Rehab Kilmarnock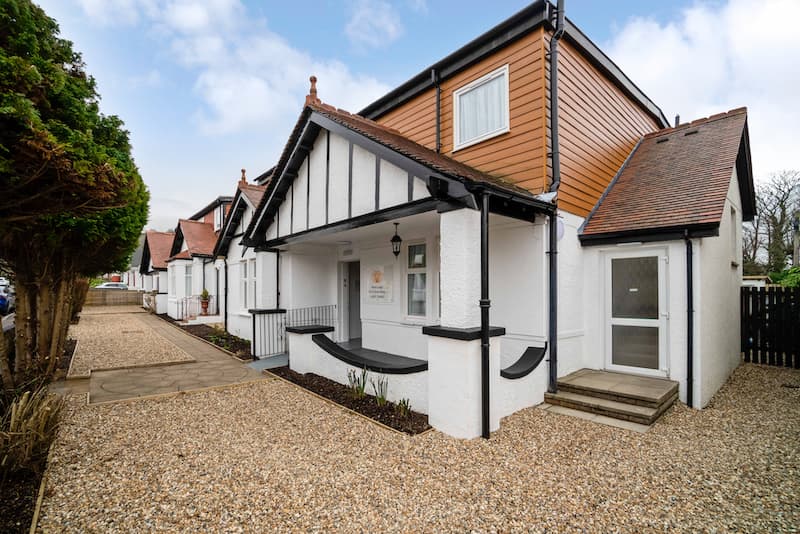 Key offerings available include:
1:1 Support from Clinical Nurse Practitioners, Registered Mental Health Nurses and Therapists
Access to Trained Psychiatrists
24 Hour Nursing Care
Comfortable & Quality Accommodation
Clinically Led Recovery Model Underpinned by Dialectical Behavioural Therapy (DBT)
1 Year Aftercare
At Cassiobury Court, as a specialist drug and alcohol treatment centre, we receive admission requests and many questions or concerns regarding addiction treatment acknowledgement.
Enhancing your understanding of your behaviours, the impact of drug and alcohol use, and available recovery paths, such as attending a drug and alcohol rehab in Kilmarnock, is a wise decision.
To do so, reflect on your experiences with drugs and alcohol and how these encounters will shape your rehabilitation journey.
If you have any personal questions or struggle to grasp the reality of your addiction, it's time to seek help. Increase your awareness of your physical and psychological choices, actions, and behaviours by committing to drug and alcohol rehab.
Does the Strength of My Addiction Impact My Recovery?
In short, yes. The severity of your dependence on drugs and alcohol can influence the duration and type of treatment necessary for withdrawal and recovery.
Besides the strength, the nature of your addiction, including your triggers, the function of drugs and alcohol in your life, and any side effects, can affect your receptiveness to treatment.
For instance, individuals with a potent addiction accompanied by multiple triggers and stressors will likely require more comprehensive treatment than someone with a milder, more manageable addiction.
Diverse experiences can also lead to variations in the withdrawal symptoms that clients experience, their response to talking therapies, and their level of engagement and commitment.
Several factors can influence your recovery journey, but commitment and dedication are crucial.
If you are devoted and invested, your drug and alcohol rehabilitation journey will come together.
Can I Recover Effectively via a Drug and Alcohol Rehab in Kilmarnock?
You can recover via a drug and alcohol rehab in Kilmarnock. Any degree of treatment will reduce your relationship with drugs and alcohol.
However, recovery isn't just about withdrawing from drugs and alcohol; it's about learning to live without them and devaluing their place in your life.
Here's where our rehab provides you with a foundation to recover comprehensively. Attempting to complete this degree of recovery can be challenging locally, especially if your triggers are linked to your everyday life.
By opting for residential rehab, you'll have enough space between your recovery environment and your drug and alcohol influences to truly immerse yourself in healing.
Although this type of rehabilitation may appear more suited for individuals with severe addictions, it can also benefit those with less severe dependencies. In such cases, the program's content will be tailored to accommodate your specific requirements.
The success of your recovery journey will largely depend on your objectives. If you are aiming for a thorough recovery process, considering a drug and alcohol rehabilitation centre in Kilmarnock would be an optimal choice.
How can I get Started with Rehab?
You can get started with rehab by contacting our team at Cassiobury Court. We offer free, confidential advice to ensure you're prepared for rehab.
From here, we can assist you through your admission, including an assessment process to secure a fitting recovery programme.
This process can happen efficiently, helping you avoid shared waiting lists associated with free NHS treatment services.
This is a vital advantage of investing in private rehabilitation, which takes place within the premises of our residential rehab clinic.
What Happens at Rehab?
The contents of your rehab programme will differ from the next person's. However, you will complete a range of addiction treatment services and recovery steps to move you closer to the status of sobriety.
Detoxification will be required to withdraw from drugs and alcohol, talking therapies will be promoted to help you detach on a psychological level, wellbeing services will be encouraged to help instil comprehensive recovery efforts, and relapse prevention planning will be highlighted to help you prepare for life back in Kilmarnock.
With this in mind, the motion of your rehab stay will follow the above route. However, the exact treatments you complete, the coping strategies you use, and the timeline for each step will vary, depending on your needs, the severity of your addiction, and your response to rehab.
How will Post-Rehab Life Look for me?
Again, we cannot accurately describe how your personal experience will pan out. However, on average, rehab completion can result in the maintenance of sober living, helping clients manage their symptoms and control their exposure to drugs and alcohol.
We can help you reach this point, where you'll develop maintenance skills to advance through relapse prevention and aftercare.
You'll also work through stress and lifestyle management to ensure you can control your emotions, responses and actions to resemble a drug- and alcohol-free reality.
By using our services and value, you can look ahead to lead life-sustaining sobriety rather than motivating ongoing drug and alcohol abuse.
Yet, the steps you take through rehab and into your post-rehab journey will impact the strength of sobriety you can experience.
Considering the above, there's a strong chance that we will have missed some of the questions you'll have about rehab, our services, and possible experiences you can encounter.
Feel free to reach out, even if you currently favour the option of a drug and alcohol rehab in Kilmarnock.
We can provide insight into residential rehab and how your offering of such standards can help you work through the drug and alcohol rehabilitation process comprehensively.
Local Hospitals in Kilmarnock
Several hospitals and clinics in Kilmarnock offer support and treatment for drug and alcohol addiction. Here are a couple of options:
University Hospital Crosshouse
Address: Kilmarnock Rd, Crosshouse, Kilmarnock KA2 0BE
Phone: 01563 521133
Founded: 1978
Number of beds: 575
Hours: Open 24 hours
Central Clinic
Address: 16 Old Irvine Rd, Kilmarnock KA1 2BD
Phone: 01563 545700
Frequently Asked Questions