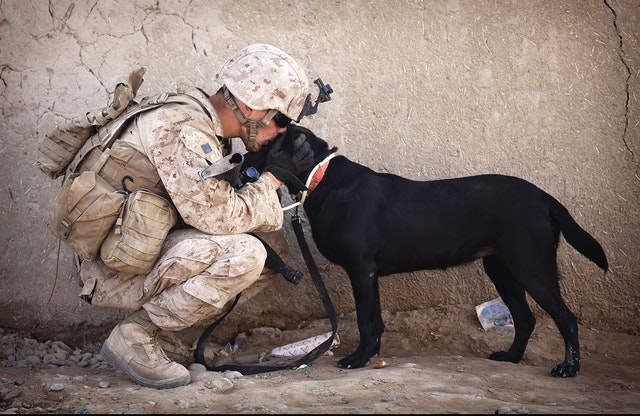 Drug and alcohol abuse does not seem to discriminate by age, sex, nationally and least of all choice of one's profession.
The British Armed Forces have over the years been no stranger to drug and alcohol addictions with-in the ranks. The Armed Forces have implemented a number of measures to reduce the addictions, most of which revolve around punishment and prevention rather than an actual programme of help for those who have fallen to drug and alcohol addiction.
A culture of drinking
Many Armed Services staff often drink an excessive amount of alcohol due to peer pressure, especially amongst new recruits. This pressure to drink excessive amounts of alcohol can continue many years into an Armed Forces career. A drinking culture seems to exist in all areas of Armed Forces life no matter which rank or squadron one belongs to. The British Navy allowed its member a 'Rum Ration' as recently as 1970.
Why drug addiction sufferers feel isolated in the Armed Forces
If you are suffering from an addiction to an illegal drug and you are a member of the Armed Forces you risk losing your career if you are caught 'using'. The Forces make it very clear that the use of illegal drugs will not be tolerated in any form. If you're caught with traces of illegal drugs in your blood you would risk being court marshalled if you lacked a reasonable and credible excuse for the substance's occurrence in your blood. For this reason, many Forces staff who suffer from an illegal drug addiction feel isolated and in an impossible position when it comes to seeking out the required help which could help them beat their addiction.
A rise in prescription drug addiction in the Armed Forces
In recent years addiction to legal prescription drugs has been on the rise amongst members of the Armed Forces. Distressing psychological trauma, which is common amongst servicemen and women following the completion of combat duties, has no doubt provided the impetus for prescription drug abuse in the Armed Forces. Such trauma can develop into Post-Traumatic Stress Disorder (PTSD) which has itself been linked to alcohol and other substance abuse.
Call us today on 01923 369 161
Whatever the nature of the circumstances of alcohol and drug addiction in the Armed Forces, many of its members feel a sense of isolation in their suffering and it is extremely difficult for them to seek out any sort of professional help. For this reason, Cassiobury Court has established a confidential helpline for Armed Forces members to ring and seek help for their drug or alcohol addiction.
You can contact the team today on 01923 369 161 for more assistance. An Admissions Manager will run you through our initial assessment questionnaire.
Cassiobury Court has successfully helped hundreds of Armed Forces servicemen and women alike since our alcohol rehab and drug rehab centre was established over fifteen years ago. Our rehabilitation centre nestled in the beautiful Hertfordshire countryside is recognised for its excellent detoxification and rehabilitation service and we are recognised by all major insurers. Your anonymity will be assured and a full aftercare service will be implemented to ensure your long term recovery success is maximised.
Sources
https://www.army.mod.uk/
https://www.commsmuseum.co.uk/rum.htm
https://www.nhs.uk/conditions/post-traumatic-stress-disorder-ptsd/