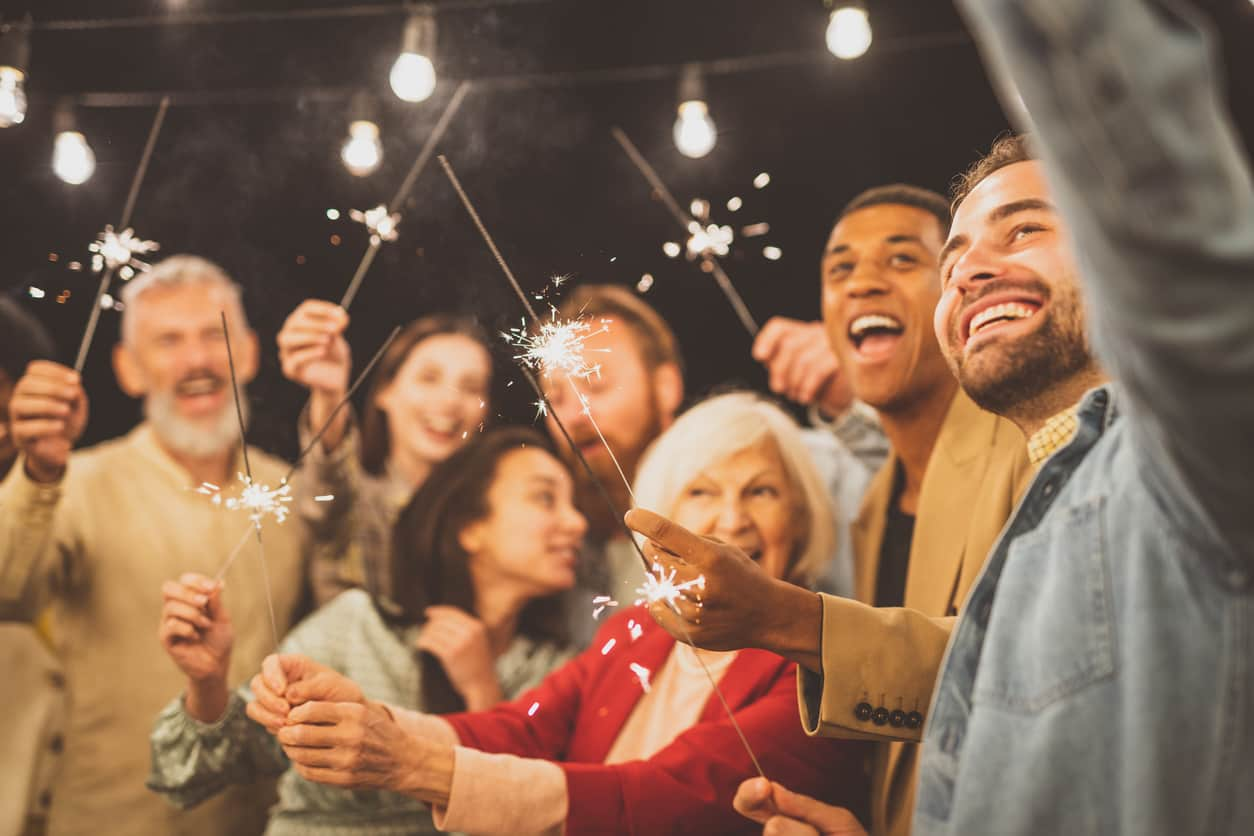 Celebrating the end of the year doesn't have to involve alcohol. If you're hosting a new years' eve party, there are lots of sober ways to enjoy yourself. And the bonus? You and your guests won't regret it the next morning!
New years' eve parties can be great fun without the booze, and especially helpful to those who have previously struggled with alcohol addiction. Here are some suggestions to get your alcohol-free party started.
Festive Themed Alcohol-Free Drinks
Alcohol-free drinks don't have to be boring, so forget the usual offerings of coke, cordials and fizzy drinks. Serve your guests alcohol-free mocktails and punches. They look fantastic, they're healthy and guests can help themselves, freeing you up to mingle.
Alcohol-free mulled wine. Warm your guests up by serving them a delicious, spice-infused mulled wine. This alcohol-free version has all the tastes of Christmas including cinnamon, pomegranate juice, and cloves.
Passion fruit martini mocktail. No martini needs to be in sight with a mocktail – just apple juice, passion fruit and a host of delicious ingredients.
Cranberry Sparkle. Nothing says Christmas more than a juicy, red cranberry. Wow your guests with this refreshing blend of fruit juices. Dip the glass rim in sugar to add some festive sparkle.
Plan Party Games
Giving your guests plenty to do will take their focus away from alcohol. Party games are a great ice-breaker, not to mention lots of fun. Which games you play depends on the number of people.
A Christmas quiz is ideal if you've got lots of people. Devise the questions before – the more Christmassy the better! Ideas include films, tv, books, celebrities…. the list is endless.
Charades. Everyone loves charades. Use the official board game or make up your own. The winning team could get a prize.
Pin the tail on the reindeer. A festive twist on the traditional donkey version. Suitable for all ages, this game always produces lots of laughs.
Murder mystery. Creative an entire evening dedicated to a murder mystery. You can devise the questions yourselves, or buy kits from specialist retailers. Make sure you let guests know beforehand so they can plan their dress-up.
Get Fancy with Outfits
Fancy dress parties are a great way to have fun, and let your hair down without drinking alcohol. Make sure you give your guests plenty of notice so they can start thinking about their outfits in advance.
People don't take themselves too seriously when they're in fancy dress, so it's an instant way to help your guests relax. Outfits are also a great conversation starter, encouraging guests to mingle and admire each other's creations.
Have Everyone Singing
Why not hire a karaoke machine and have a karaoke party? Lots of companies hire out professional equipment for house parties, complete with microphones, sound systems and monitors. You could even hire or buy a disco ball and lights to create a kitchen disco.
The joy of karaoke is that there's always a song to suit everyone. Encourage shy guests to partner up to sing a duet, or even form a band. Singing is a real feel-good experience, encouraging bonding and the flow of endorphins – perfect for a party.
Music for All
No-one's going to enjoy a party if you play heavy metal at full blast. And if the music is too relaxing, you'll send people to sleep. Plan the music before the party, and create playlists to last the whole evening. Think about the type of music you want to play, and stick to the same genre.
Disco music is easy on the ear, encourages people to relax and lends itself to a party atmosphere. But it depends on who you're inviting. If you and your guests all like rock or jazz music, play the music that will get them dancing, rather than sitting in the corner.
Think about how you're going to play the music. Will it be blue-toothed from a computer to a speaker? What about hiring a DJ, or could a friend with decks and vinyl play?
Themed Food
You can really go to town on this one. Decide on the type of food you want to serve, and go for it! You could be country-specific and choose food to match. Think Italian, Indian, Thai, Mexican, Spanish… the world's your oyster.
You may want to be playful with your food options. What about a snow-themed party where everything is white? Think meringues topped with cream, iced biscuits and sandwiches. Dress your table with a white tablecloth and flowers and it's a winter wonderland.
'Build your own food' evenings are also another great idea. Serve platters of tacos with fillings so people can build themselves. Or what about a pizza party? Ask guests to roll out their own pizzas and decorate them with toppings. Make sure you have plenty of oven space (and crank to the highest temperature.) A portable pizza oven also cooks pizzas in minutes.
Invite a Range of People
Parties are always more interesting if there's a good mix of guests. Some people think that everyone has to know each other for the party to be successful. Not true. It's a good idea to invite people who know a few others but throw in different groups to make things exciting.
A Different Type of Sober Party
You don't have to host an all-singing, all-dancing party to enjoy yourselves. There are lots of ways to host a party, and it can be as small or large as you want.
Movie night. Crack open the popcorn, dim the lights and get cosy under blankets by hosting a movie night. Back-to-back films can take you into the early hours of the morning – ideal for film buffs. Go the extra mile, and create an interval where you serve trays of popcorn, drinks and sweets.
Self-care party. Lots of people like to chill out on New Year's Eve, so why not host a self-care party? You could lead a yoga or pilates class, followed by meditation. Throw in face masks, manicures or pedicures, and a massage, and everyone will feel fantastic the next morning.
For those who have previously attended an alcohol rehab centre, New Year's Eve can be daunting. This is why relapse prevention is such an important part of recovery, and hosting an alcohol-free New Year's Eve party is a great way to include loved ones.