Cuts to Addiction Services Since 2010 [INFOGRAPHIC]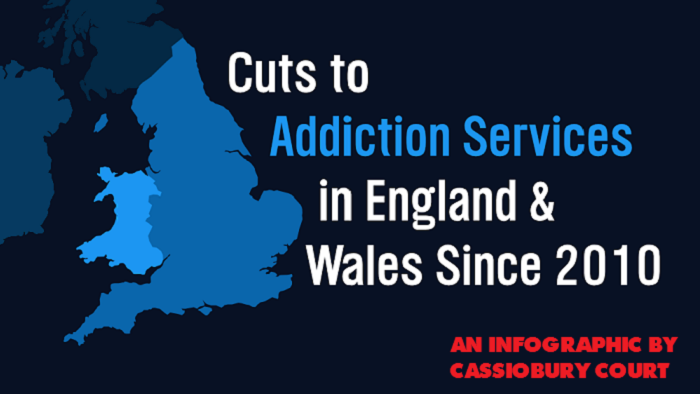 In this blog post, we unveil our latest infographic titled "cuts to addiction services in England and Wales since 2012". Since 2010, successive Tory Governments have aimed to save public money by cutting addiction services. Since addiction is often stigmatised, perhaps these politicians feel justified in cutting these unarguably essential services.
These cuts really started to take hold following the enactment of the Health and Social Care Act 2012. This Act meant addiction services is now solely commissioned by local authorities and not the NHS.
Before 2012, long term Government investment in addiction services saw year-on-year decreases in drug-related deaths. These improvements have now been utterly wiped out.
Why is this the case? Because under the NHS, local authorities' spending on addiction treatment isn't ring-fenced. Most local authorities have seen their own budget reduced by the Government, and so addiction services have been chopped to help local authorities make savings required by these cuts.
An example of this injustice is in the City of Birmingham. Addiction services saw their budget cut from £26m to £19m in 2015-16.
Rises in Drug-Related Deaths since 2012
Following the enactment of the Health and Social Care Act 2012, drug-related deaths have sharply increased:
Deaths involving heroin and/or morphine doubled between 2012 and 2015 from 579 to 1,201. That's a 107% increase. The mortality rate for deaths involving heroin/morphine declined between 2008 and 2012, with a particularly sharp fall between 2009 and 2011. The recent reversal means the mortality rate in 2015 was the highest since records began in 1993
There were 2,479 drug-related deaths involving both legal and illegal drugs registered in England and Wales in 2015. This was 48 per cent higher than in 2005, and the highest since comparable records began in 1993
Sadly, these increases have occurred despite an overall decrease in the number of people using illicit drugs. In 2005/06, 10.5% of adults aged 16 to 59 had taken an illegal drug in the last year. This decreased to 8.4% in 2015/16.
Cuts in staffing
Staffing levels have been hit hardest by these cuts. Staffing cuts mean fewer psychiatrists, psychiatric nurses and clinical psychologists are available to assist people suffering from addiction issues. Addiction services are instead of relying on doctors without specialist qualifications and volunteers.
The number of trainee addiction psychiatrists have reduced by 60% since 2006. In 2006, there were 52 trainee psychiatrists. In 2016, this number has decreased to 21. This means addiction services find it difficult to access sufficiently qualified staff members. This has decreased the quality of addiction services and diminished the safety of client care.
Attacks on harm reduction treatment
Harm reduction is used to describe the methadone programme. This is when those addicted to heroin are given methadone as a 'replacement'. Whilst the merits of this approach are debatable, thousands of people have come to depend on methadone to control their addiction to opiates, and going without really forces these people back onto street heroin.
Since 2012, local authorities have begun to limit the number of time clients may stay on a methadone programme. Also, 'payment by results' contracts mean many local authorities are unwilling to offer the methadone programme to clients with complex mental health needs.
All this is putting a strain on A&E services
The above state-of-affairs means many people are seeking out the assistance of A&E instead of specific addiction services. The number of hospital admissions in 2015/16 relating to drug poisoning was 15,074. This represents a 51% increase compared to 2005/05.
A solution to these problems
The Royal College of Psychiatrists proposes a three-part solution:
A return to joint addiction service commissioning between the NHS and local authorities
There must be at least 60 addictions psychiatrist training posts in England
There can be no further cuts to local authorities' budgets for these services
Now, finally for the infographic…
Below, we unveil the infographic visually representing the above facts. At the footer of the infographic, there is an embed code. You may copy this code to insert this infographic into a blog post on your own website.

Share this Image On Your Site
Linking to this content
If you control a website, we would appreciate it if you could link to this infographic. You could perhaps add the link to your 'useful links' page, or embed the infographic in a blog post. This link will help to inform others of the important information contained in this infographic.
References
Below, we list the references we used when compiling the above infographic: