Drug and Alcohol Rehab Coventry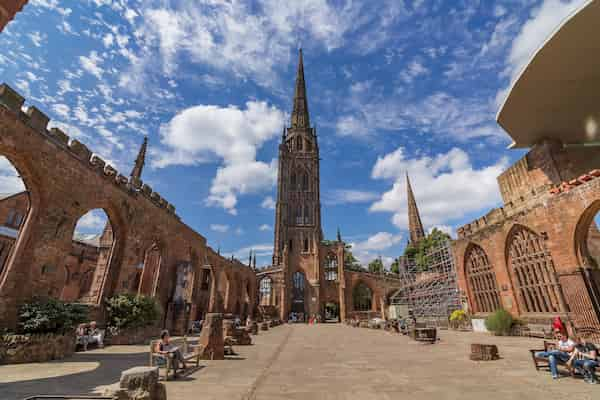 You may think it'll never affect you, but the chances are you or someone you know in Coventry will succumb to drug or alcohol issues at some point.
Unfortunately, a lot of people in Coventry never get help partly due to shame or embarrassment, but also because of the lack of addiction treatment offered by the government.
That's where specialist private addiction rehab clinics available to Coventry residents come in.
If you're looking for drug and alcohol rehab in Coventry or the surrounding areas such as Kenilworth, we can help you get the help you need.
What Are Signs You Need Drug or Alcohol Rehab in Coventry?
Admitting you have a problem is one thing, but the next step is doing something about it. This can be the hardest part because it means fully committing to your recovery and also deciding on the best way to do it.
Inpatient rehab in Coventry really is the best chance you have at overcoming your addiction as it provides a safe environment for you to recover.
However, if you're still undecided about whether you really need to consider drug and alcohol rehab in Coventry, here are some common signs that it's finally time.
Your health is being affected
Alcohol and drugs take a toll on the body because it puts it through a great deal of strain that it's not designed to deal with.
This inevitably leads to health problems, often sooner rather than later. As an addict, you may feel ill a lot of the time and also experience regular pain.
Unfortunately, this is only the tip of the iceberg. If you continue down this path, the health problems you experience now will only get worse and reduce your quality of life.
Intoxication leads to risk-taking behaviour, leading to accidents or even violence. This could lead to injuries, but when added to long term health conditions, broken bones may be the least of your worries.
If you have been warned by your doctor about your health as a result of substance abuse, it's time to take them seriously. They've seen addiction countless times before and know exactly where it ends up.
Your life is losing stability
While health problems are a clear tell-tale sign, addiction can take hold of your life in other ways too.
With addiction, it's much harder to keep things stable. It can destroy your ability to keep relationships, hold down a job or even physically look after yourself.
This downward spiral often starts small but you can quickly find yourself losing more and more. This makes you more likely to turn back to substances to cope and of course, the addiction gets worse.
However, it's not too late. Even if you feel like you've lost everything, you can still get control over your life again by seeking professional help available in Coventry.
Our Drug and Alcohol Rehab in Coventry
At Cassiobury Court, we want to make it easy for addicts in Coventry to get the help they need.
If you're looking for addiction treatment in Coventry, we have a facility near you. We can easily arrange transportation for you to attend when you book an appointment with us.
We want to ensure that you have access to treatment for drug or alcohol addiction in the Coventry area. That way, there's no need to travel across the country to get the treatment that you need.
That's one of the benefits of going for private rehab treatment in Coventry over NHS addiction treatment. You get the freedom to choose the right location for you and can get help sooner rather than having to wait for months for drug addiction treatment.
How will Cassiobury Court Help You Achieve Sobriety?
When all seems hopeless, Cassiobury Court's rehab treatment in Coventry can help. Getting and remaining sober is entirely possible with our inpatient treatment programmes.
When we get you settled into our high quality rehab centre, we will start by getting you through detox. This means giving you time to get the harmful toxins out of your body.
This process will be difficult and you may experience unpleasant withdrawal symptoms. However, it's an essential part of the recovery process and we will help you through it.
Once you've completed detox, we can get started on getting to know you a bit better so we can tailor your treatment programme to you.
We need to get to the root cause of your drug or alcohol addiction, what started it all off in the first place.
Not knowing why you really became addicted, will make it much harder to help you maintain long term recovery.
We'll talk with you about personal history, family history, personal circumstances and the nature of your addiction.
What is rehab in Coventry really like?
You'll be surprised at how comfortable and calming our rehab clinics are. If you're imagining bleak hospital rooms, think again. Our residential rehab facilities feature luxury accommodation and private rooms where all your needs are met.
This enables our residents to recover in the best surroundings possible, so they can focus entirely on their sobriety.
Our rehab treatments will consist of therapy sessions with addiction counsellors, group sessions, relapse management tips and of course help with withdrawal symptoms.
After you have completed your residency at our rehab centre near Coventry, our aftercare team will still be there to help you maintain your sobriety long term.
They'll give you advice on how to avoid triggers in everyday life, how to develop positive habits to replace negative ones and how to join recovery support groups. We absolutely recommend group sessions so that you've got someone to talk to who has been there before.
Why Do People Become Addicted to Drugs or Alcohol?
Drug and alcohol addiction is more complex than a lot of people realise. It's not a simple case of repeated behaviour that needs tackling. Nor is it a simple case of just stopping.
No matter if you are based in Coventry or anywhere else in the country the reason individuals become addicted and abuse substance can be down to a wide variety of reasons.
For some, it could be due to underlying mental health problems such as depression. Drug taking or alcohol abuse becomes an easy form of self medication that quickly spirals out of control.
Others may have been raised in or find themselves in an environment with recreational drug use. This makes the user much more likely to go beyond a one-time experiment and into long-term usage.
Whatever the reason for your addiction, it's never too late to get help. At Cassiobury Court, we will help you finally overcome your addiction by treating the root of the problem, not just the symptoms.
Get the help you need from our Rehab Centre near Coventry
If you're based in Coventry and are ready to start attending rehab for drug or alcohol addiction, it's time to get in contact with admissions team who will make sure you are immediately able to receive drug and alcohol rehab in Coventry.
Don't delay, it makes it harder to finally take the leap the longer you leave it. The sooner you get in touch, the sooner you can get sober and get your life back.
Get in touch with our admissions team by filling in our quick contact form.
Drug and Alcohol Rehab Coventry FAQ's
Here is some of the most frequently asked questions we receive when individuals are considering rehab in Coventry.
How bad is drug and alcohol withdrawal?
Withdrawing addictive substances from the body can be quite a daunting and uncomfortable process. This is why it's important to consider inpatient treatment as the process is handled in a way that will make you feel as comfortable and safe as possible, the process can be considered to be worse for some depending on the severity of the addiction but inpatient treatment makes the process far more bearable.
Can you force someone into rehab?
Forcing someone into rehab is not something we would advise unless the addiction is so severe that intervention from medical services is needed to protect the individual from a potentially life threatening outcome.
What we would recommend would be an intervention, this is a service offered to family and friends who are looking to seek help for their loved one. You can read more about our intervention service by
clicking here.
What is Dual Diagnosis treatment?
Dual diagnosis treatment is provided to individuals who are suffering from both an addiction and mental health condition such as depression and anxiety.